Event Details
Date: 17 May 2019
---
Location name: London, UK
---
Location address: Royal College of Physicians, 11 St Andrews Pl, London NW1 4LE
---
Contact: Samantha Womack
---
---
---
Click to view dynamic map
Report by Miss Summy Bola, ST6 Registrar at The John Radcliffe Hospital. 
The British Association of Head and Neck Oncologists (BAHNO) annual scientific meeting is arguably the most important multidisciplinary meeting of the year. This year's meeting was themed 'Paradigm shifts in Head and Neck Cancer Management'. With so many emerging developments in the head and neck sector, the only way to stay informed was to book my place and take in all the soon-to-be-published research. We received a round-up of the head and neck trials in progress across the globe followed by a free paper session by the top-scoring abstracts. Congratulations to INTEGRATE (trainee collaborative) who gained first prize for presenting their audit data on 5000+ patients, highlighting multidisciplinary team (MDT) workload across the country and the increased risk of finding recurrence when patients reported a concern versus finding recurrence on routine surveillance.
Professor Maura Gillison gave the Blair Hesketh lecture entitled 'To de-escalate or not to de-escalate management of HPV oropharyngeal cancer'. She described vaccine uptake in the USA and the UK and provided data on the dramatic decline in HPV viral warts (82%) in teenage girls and well as the herd immunity provided to teenage males (60%) since the HPV vaccination programme. Impressively, her presentation only revolved around data from the last six months.
The most creditable aspect of the meeting was how accessible the conference was for all allied health professionals. The free paper session included talks on PET-CT surveillance, enhanced postoperative recovery, delayed extubation versus elective tracheostomy and an evaluation of gastrostomy retention rates during cancer treatment. When asking Professor Mehanna, BAHNO President, why he thought attendance had increased he attributed it to the programme getting better every year which adds value for all delegates. He also emphasised the recent increase in subcommittees within BAHNO and hoped this would allow for more trainee involvement.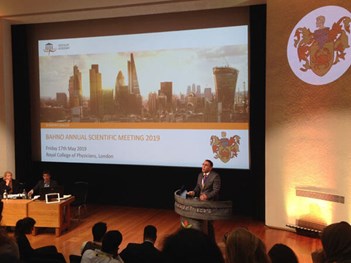 BAHNO President, Professor Mehanna giving a talk.
This year's debate was entitled 'This house believes that the planned comprehensive vaccination program against HPV will eradicate oropharyngeal cancer by 2040'. The arguments were provoking and comparisons were made to smallpox eradication, vaccine uptake levels in Japan and consideration of non-HPV disease. In the end, this house did not believe the statement, however it is perhaps something to readdress once the vaccine programme begins for males.
Congratulations to honorary membership winners' Michael Fardy and Nicholas Roland, not only for their efforts within BAHNO but also their work in developing free tissue transfer, producing MDT guidelines and delivering surgical education. Congratulations also to Kevin Harrington and John Watkinson who received the President's Achievement Award for their work in developing new treatment in head and neck cancer. The conference was wrapped up rather favourably with a cheese and wine reception in the Dorchester Library and by announcing next year's meeting which will be held on 15 May 2020.