Event Details
Date: 14 May 2021
---
Location name: VIRTUAL
---
Contact: Samantha Womack
---
---
---
On 14 May 2021, the Annual Scientific Meeting of the British Association of Head and Neck Oncologists (BAHNO) took place virtually, having had to be cancelled in 2020.  The online format mirrored the tradition of the BAHNO meeting. There is equal weight and visibility of all members of the multidisciplinary care required in head and neck oncology. Alongside the excellent parallel sessions for allied healthcare and medical professionals, and the case-based discussion session, was the keynote Blair Hesketh Lecture and the BAHNO debate.
After the welcome by President, Mr Cyrus Kerawala, Dr Martin Forster took the delegates through the impressive portfolio of work under the National Cancer Research Institute Head & Neck Group that members can (and do) contribute to, despite the impact of the pandemic. The case-based discussions allowed delegates to engage in clinical thinking alongside the research and scientific content of the meeting.
Dr R Bryan Bell, Medical Director of Providence Head and Neck Cancer Program, delivered the keynote talk. He provided attendees with a comprehensive overview of the story of head and neck cancer care, and what the future may hold. In his talk titled 'Predicting the future of surgery in the management of head and neck cancer', he concluded that the role of surgery will remain, albeit perhaps altered.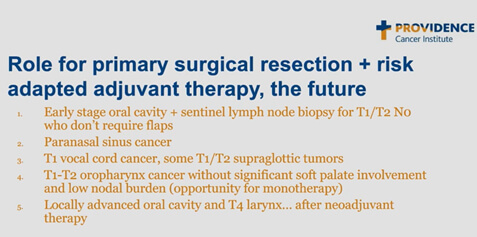 The debate was as passionate as ever, even without the fiery contributions that audience members normally make. Dr Russell Banner and Dr Justin Roe argued for, and Dr R Bryan Bell and Mrs Jane Thornton argued against, the motion that "This house believes that radiotherapy is the gift that keeps giving." The motion was carried by the vote of the attendees at the end that the radiotherapy is, indeed, the gift that keeps giving.
The meeting was excellent in the quality and quantity of content. A benefit to attendees will be the ability to return to content they wish to review or they would have missed when they could not be in two places at once. Congratulations to the prize winners, Mrs Victoria Harries, Mrs Rebecca Jobson, Dr Paula Bradley, Mr Nick Hamilton and Dr Rachel Brooker. BAHNO are to be congratulated, and we look forward to the meeting in 2022.


Report by Rujuta Roplekar Bance, Specialist Registrar, Addenbrooke's Hospital, Cambridge, East of England Deanery, UK.