Event Details
Date: 20 September 2019
---
Location name: Edinburgh, UK
---
Location address: The Royal College of Surgeons of Edinburgh, Nicolson Street, Edinburgh, EH8 9DW
---
Tel: +44 (0)20 7905 2699
---
---
---
Click to view dynamic map
 Report by: Hannah Emerson, ST3 Otolaryngology, Alder Hey Children's Hospital, Liverpool, UK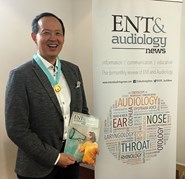 On 20 September, the 2019 British Association for Paediatric Otolaryngology (BAPO) Annual Meeting was held in the beautiful city of Edinburgh. The sun shone down as national and international delegates gathered at the historic Royal College of Surgeons of Edinburgh. The meeting opened with a welcome from Mr Alistair Kerr, followed by a President's Address from Mr Michael Kuo.
(Image: Michael Kuo at the ENT & Audiology News stand)
Fittingly, on the 15th anniversary of the publication of the Cotton-Mayer grading system, the John Evans Lecture was entitled 'Paediatric Airway Frontiers' and was delivered by Dr Ari DeRowe, Dana-Dwek Children's Hospital, Tel Aviv. He provided an overview of local experience of paediatric airway reconstruction, including fascinating insights into research regarding laser soldering of tracheal grafts and dipping into future technology including 3D model reconstruction for pre-operative planning and a virtual reality airway tour.
Two colourful expert panel sessions were run over the day addressing controversies in paediatric otolaryngology, with insights into international practice provided by Sanjay Parikh (Seattle); Natalie Loundon (Paris); and Carol Liu (Houston). The morning panel addressed head and neck and rhinology, and included discussions on the utility of pre-operative pulse oximetry for obstructive sleep aponea, the ethics of performing extracapsular tonsillectomy, and stent placement for choanal atresia. The afternoon panel session addressed dilemmas in otology, including optimal age for performing myringoplasties.  The importance of facilitating swimming pool use was highlighted by some (non-UK) practitioners! Our closely allied speciality of anaesthesia was represented by a lecture from Dr Alistair Baxter, entitled 'Developments in paediatric tubeless anaesthesia' and outlined the increased use of TIVA and Optiflow. 
It was positive to note a strong trainee presence at the conference, with oral free papers and poster presentations delivered from medical students through to senior registrars. The late Susanna Leighton was honoured through the Susanne Leighton Trainee Prize Presentations and included research on adult versus paediatric stem cells for successful re-epithelialisation of tracheal grafts (winner), a novel technique utilising laser for measurement of subglottic stenosis, and quality of life questionnaires for tracheostomy patients. Congratulations to Miss Elizabeth Maughan, ST3, for winning this section and receiving funding for a visit to ESPO 2020.
Some key concepts of the recent admirable multi-disciplinary work of the combined working party who produced the document 'Safe Delivery of Paediatric Surgery in the UK: A National Strategy' were presented by Mr Ben Hartley, Great Ormond Street Hospital. 
The meeting closed with the announcement of prizes, including best oral presentation, which was awarded to Mr Rory Houston, ST3, for development of ENT UK guidelines for the management of impacted button batteries. A particularly positive nod must be made to the BAPO App (free to download), which made the conference programme easily accessible.  We look forward to the next BAPO meeting, which will be held in Birmingham in 2020.