Event Details
Date:
23 September 2021
- 24 September 2021
---
Location name: Birmingham, UK
---
Location address: Bramall Music Hall, University of Birmingham, UK.
---
---

The BAPO Annual Meeting was held in the Bramall Music Hall at the University of Birmingham. It was run as a hybrid event, with attendees taking part both in person and virtually. For many, this was the first face-to-face conference they had attended since the beginning of the COVID-19 pandemic. This led to a great atmosphere, with everyone enjoying the opportunity to catch up and exchange experiences from the last 18 months.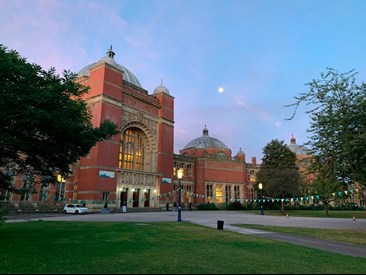 Bramall Music Hall at the University of Birmingham.
The conference started off with a welcome by Mr Michael Kuo, the outgoing President of BAPO. This included a beautiful and moving rendition of Nimrod (Variation IX of Elgar's Variations on an Original Theme) by members of the Ex Cathedra Choir, in memory of the late Mr Amged El-Hawrani, who sadly lost his life to COVID-19 in 2020.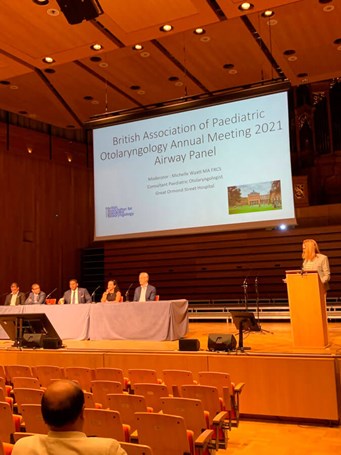 On the first day, the John Evans lecture was given by Mr John Russell, who gave an excellent summary of landmark papers in the field of paediatric ENT and how these have influenced his practice. The following day, this baton was taken by Mr Adrian James from Toronto Sick Kids, who gave an insight into his endoscopic ear practice and the role this has in current and future practice.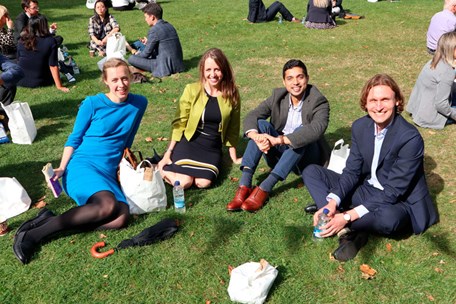 Delegates enjoy lunch on the lawn.
There were a number of excellent panel discussions throughout the two days, covering key topics within paediatric otolaryngology; for example, providing useful tips on surgical management and when to intervene with issues such as laryngomalacia or tympanic membrane perforation. Aside from purely clinical education, we were also introduced to the topic of phronesis within medicine, a new concept to many of us!
Report by Sarah Dawes, ST7 Otolaryngology, Liverpool University Hospitals NHS Foundation Trust, UK.