Event Details
Date:
14 September 2023
- 15 September 2023
---
Location name: London, UK
---
Location address: BMA House
Tavistock Square
London WC1H 9JP
---
---
Click to view dynamic map
Report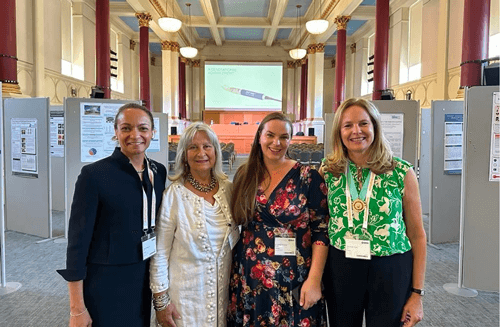 Arshad Zubair, ST5 Otolaryngology, North West Deanery, UK.
The 2023 Annual Meeting of the British Association of Paediatric Otorhinolaryngology (BAPO) attracted a packed audience to the Great Hall of BMA House, along with delegates joining in virtually. President Michelle Wyatt opened the meeting, followed by updates on guidelines for day case tonsillectomy and button battery ingestion. President-Elect Designate Su De inspired the juniors in the crowd by sharing her leadership journey in paediatric ENT and entertained us with some managerial jargon.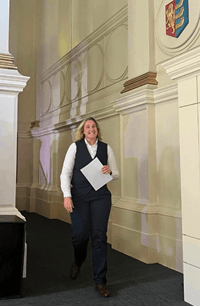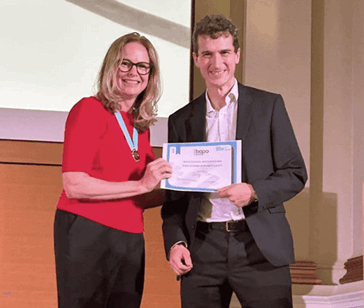 This year's meeting stood out because of the launch of the official trainee section, BAPO Juniors (BAPOJ), realised by the concerted effort of Emma Gosnell and Kate Blackmore. For the first time, there were BAPOJ research and travelling fellowship prizes up for grabs. Harry Tustin (right) pitched perfectly to secure the BAPOJ Research Prize for a discrete and comfortable bone conduction aid for glue ear. The Travelling Fellowship Prize was won by Sophie Wilkinson (left). After the awards came a panel discussion on fellowship experiences in paediatric ENT spread across Manchester, London, Toronto and Auckland.
The keynote address was delivered by the highly distinguished Baroness Helena Kennedy KC, who captivated the audience as she advocated for equality and diversity in surgery, drawing on her experiences from leading the independent review of diversity at the Royal College of Surgeons of England. She is pictured above, second from the left, with Professor Dana Thompson, Elizabeth Maughan and Michelle Wyatt at the Great Hall.
This year's John Evans Lecture was delivered by Prof Thompson from the Lurie Children's Hospital of Chicago. She prompted us to rethink the pathophysiology of laryngomalacia and its numerous variants and, more importantly, to reflect, research and learn from our clinical practice. The otology section began with Francois Simon from Necker Hospital in Paris, who lectured on outcomes in paediatric myringoplasty and described an 'Armenian sandwich' technique. Alessandro de Alarcon from Cincinnati Children's Hospital delivered a keynote address on his extensive experience in airway reconstruction with a focus on voice rehabilitation, including laryngeal reinnervation.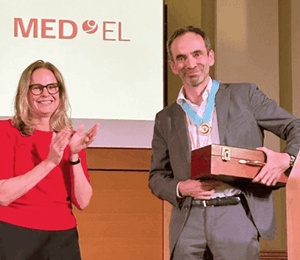 There were excellent talks and panel discussions across both days covering every subspeciality in paediatric ENT, including immunology for ENT and the emerging role of artificial intelligence. There were short papers and posters presented over both days, demonstrating strong trainee commitment to the field. Aryaki Soni won the Amged El-Hawrani prize for 'Is Unilateral Tonsillar Enlargement (UTE) Indicative of Lymphoma in Children?'. The Susanna Leighton Prize was won by Elizabeth Maughan for 'In Vivo Engraftment of Autologous Gene-Corrected Airway Epithelium' and Chong Kang bagged the poster prize for 'Drug-Induced Sleep Endoscopy in Children: a Single Centre Experience'.
The meeting concluded with outgoing President Michelle Wyatt handing over to incoming President Neil Bateman (right).
We look forward to the next BAPO meeting, which will be held in Manchester, 19-20 September 2024.