Event Details
Date: 24 September 2021
---
Time: 13:00
---
Location name: VIRTUAL
---
Contact: Dion Bassett
---
Tel: +44 7721 770657
---
---
---
Award: 4 CPD points
---
On 24 September 2021, the British Laryngological Association hosted its virtual annual conference, with an international speaker line-up to review the latest evidence and trends in the field of laryngology.
Unique insights were shared, including Chadwan Al-Yaghchi (Imperial College Healthcare) discussing his favoured approach to voice feminisation surgery using the modified Wendler glottoplasty, "boosted" with the addition of laser assisted voice adjustment (Image 1). He also detailed the necessity of focused speech therapy to enhance voice alteration in this patient cohort.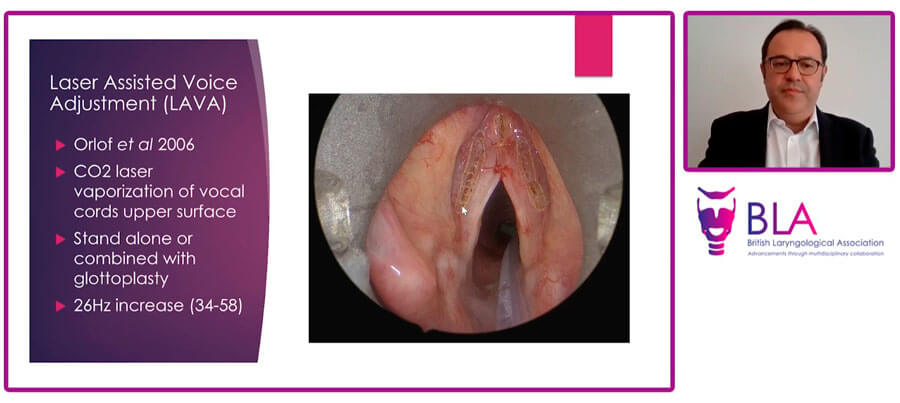 Image 1.
Further niche expertise were presented by Nick Gibbins (University Hospital Lewisham) in a fascinating understanding of how muscle tension affecting the larynx may originate from remote musculoskeletal disorders, such as pelvic malalignment. And if ever the necessity for a holistic assessment of the patient was advocated, further weight to the reflection voice gives to systemic health was added by Mariline Santos (Porto); whose free paper presentation detailed the link between presbylarynx and diabetes or chronic respiratory illnesses, as well as psychiatric disorders.
Demonstrating the ever-adapting and progressive field of operative laryngology, Markus Hess (Hamburg) presented his experience of unleashing the potential of the TruBlue 445nm laser (a product of the sponsor, Neomed) – in particular, its contact-cutting ability and improved access to so called blind-spots thanks to the combination of its flexible fibre and conjunctive use with endoscopes (Image 2). Novel uses of established technology are also being developed in the field, such as the emerging role of ultrasound and high-resolution pharyngeal manometry in the assessment of dysphagia (presented by Jodi Allen, London, and Ashli O'Rourke, South Carolina; respectively).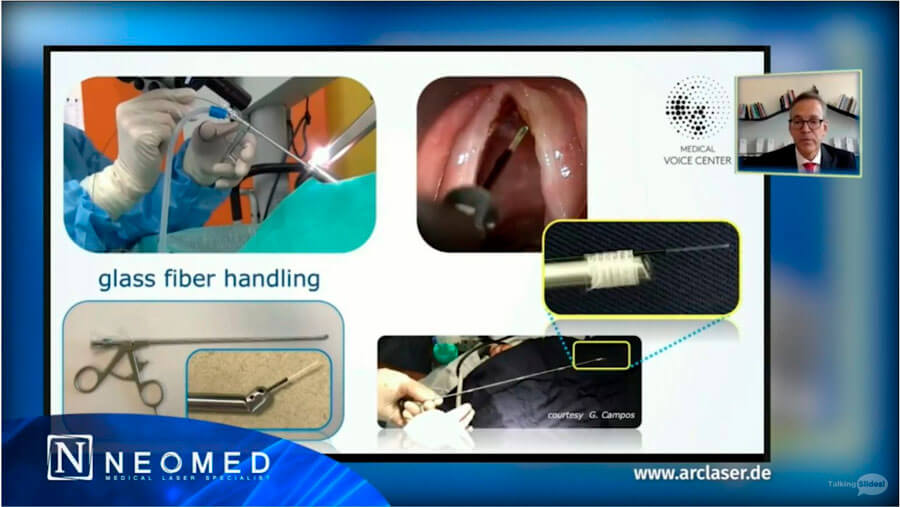 Image 2.
Following on from BLA President Prof Guri Sandhu's presentation at the ELS Congress earlier in the year, Jonathan Fishman (University College London) provided a comprehensive update on the impact of COVID-19 on practising laryngology and on the larynx itself. This reviewed the comparative aerosolisation of speaking, singing, coughing and sneezing, as well as the absence of an increase in aerosolisation caused by flexible laryngoscopy per se. Intraoperative ventilatory techniques were also scrutinised. He rounded off by detailing the multiple theories to explain laryngeal disease and dysfunction after COVID infection, whilst acknowledging that there is still much that is unknown about the exact mechanisms involved.
As more is learned about the virus, we hope that it won't curtail our ambitions to meet face-to-face for further educational programmes; including the return of the BLA-affiliated 'Cutting Edge Laryngology' Conference this time next year.
Conference presentations are available to BLA members at: https://blawebinars.talkingslideshd.com