Event Details
Date:
25 September 2019
- 27 September 2019
---
Location name: Edinburgh, UK
---
Location address: Royal College of Surgeons of Edinburgh, Nicolson St, Edinburgh EH8 9DW
---
---
---
Click to view dynamic map
Report by: Miss Natalie Watson, ENT Trainee, South London Deanery 
Cutting Edge Laryngology was a three-day conference organised by the British Laryngological Association (BLA) in the splendid surroundings of the Royal College of Surgeons of Edinburgh. It was a truly international affair with experts speaking on hot topics, new and developing skills and technologies. Keynote lectures were delivered from Lucian Sulica, New York, on vocal cord palsy, Mark Watson, the BLA President on laryngopharyngeal reflux, Christian Sittel, the current European Laryngological Society President and host of the 2020 ELS Conference in Stuttgart, on cricotracheal resection for subglottic stenosis, and Kishore Sandhu from Lausanne, Switzerland on laryngeal trauma.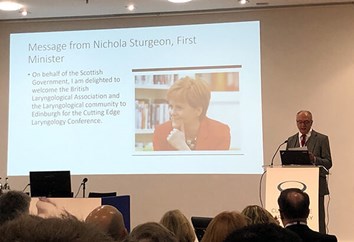 A greeting from the First Minister of Scotland.
A host of additional invited speakers imparted knowledge with updates and expert opinion on idiopathic subglottic stenosis (Alex Gelbard, Nashville, USA, Marshall Smith, Salt Lake City, USA). Office based procedures were explored by Yakubu Karagama, London, Reza Nouraei, Poole, and Lucian Sulica. Taran Tatla, London, highlighted endoscopy advances in technology and Cian Hughes from Google explored the use of Artificial Intelligence in medicine. A section on the treatment of spasmodic dysphonia discussed the use of Botulinum toxin (Declan Costello, Wexham Park), Type 2 thyroplasty (Tetsuji Sanuki, Japan), and endoscopic thyroarytenoid neuromyectomy (Domingos Tsuji, Brazil). The Reverend Peter Meager led us through his patient journey with adductor spasmodic dysphonia for the past 40 years.
The dysphagia section included presentations on the MDT approach by Justin Roe, London, office balloon dilation by Kate Heathcote, Poole and pharyngeal pouches by Sam Majumdar, Dundee. Scharukh Jalisi, Boston, spoke on laryngeal rehabilitation after head and neck cancer treatment and Chadwan Al Yaghchi, London, on surgical voice rehabilitation after laser cordotomy. We were also updated by the lastest RRP evidence in adults and children by Sam Majumdar and Michelle Wyatt, London and Margaret Stanley, Cambridge, explained the immunology. This was timely given the BLA's position paper on Gardasil for patients with RRP.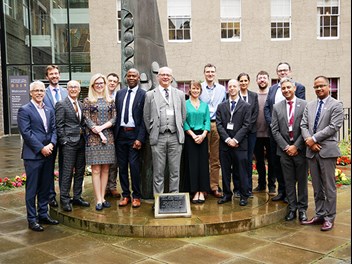 This is the current BLA committee photo in the RCSEd. 
There was a dedicated speech and language therapy session on the final day which enthralled the audience with the latest in the MDT approach to head and neck cancer, benign airway disorders and voice therapy. Free papers were also presented from several UK and international speakers. In addition, on each of the three days discussion of difficult cases closed the sessions, with the debates continuing into the evening.
Finally, the BLA decided to go paperless for this year's conference producing the 'BLA Connect' app. This was no ordinary conference app and remains live to function as an interactive educational resource. This open access app will help us to stay connected, share information and hopes to encourage debate and discussion. Please do download 'BLA Connect' from your app store to your device and the BLA can keep you updated on the new resources coming soon.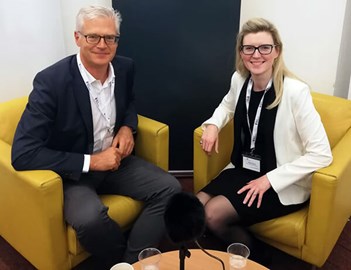 Interviews were undertaken with many speakers will be available to view on the website.