Event Details
Date: 19 March 2021
---
Time: 13:00
---
Location name: ONLINE
---
---

Report by Rohma Abrar, Academic FY2 Doctor in ENT, Manchester University NHS Foundation Trust, Manchester, UK.
This year's virtual BOARS Spring Meeting not only showcased academic talent in ENT from junior and senior academics across the UK, but also hosted hustings for the fiercely contested BOARS committee positions that are only opened once every three years.
The afternoon began with a warm welcome from BOARS President, Professor Carl Philpott, and outgoing BOARS Secretary, Miss Lucy Truman, before diving straight into trainee research presentations. This year's prestigious Phillip Stell prize was awarded to Rohma Abrar, Academic FY2 in ENT, for her excellent work comparing imaging techniques to enable preoperative cochlear implant device selection. She was invited to present her work at the upcoming Dutch National ENT Society Annual Meeting. The Junior Trainee Prize was won by Thomas McLelland, FY1, for his impressive work on developing shared decision making in ENT clinics.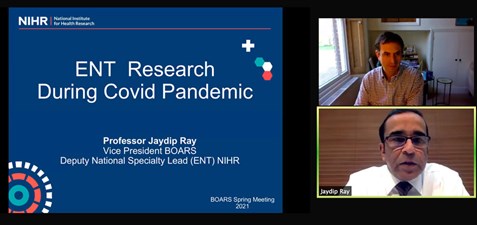 The exciting hustings process then dominated a significant portion of the afternoon, with each applicant giving a one-minute speech on why they should be elected to their committee position of interest. A competitive online voting process ensued. The high competition and excellent speeches meant that extra committee positions were created at the last minute, including a new Junior Trainee Representative role as well as an additional Student Representative role to encourage well-deserving junior trainees to play a more active role in the society. The highly coveted Secretary position for BOARS was won by Mr David Hamilton, Consultant in Head and Neck Surgery, Newcastle, UK.
INTEGRATE also provided an update to the conference attendees. Mr John Hardman, Chair for INTEGRATE, outlined their exceptional academic activities in the past few years, with a special focus on their first ever upcoming NIHR-funded RCT to investigate the effectiveness of steroids for idiopathic sudden sensorineural hearing loss. This study also includes a fantastic leadership opportunity for trainees to be awarded NIHR Associate Principal Investigator status for their involvement.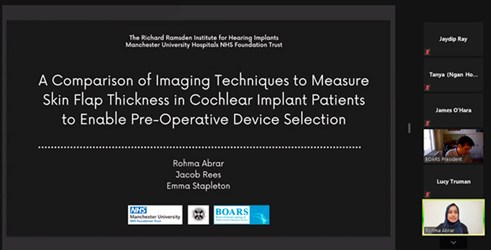 Mr Andrew Swift, President-Elect of ENT UK, announced ENT UK's new exciting non-commercial partnership with NIHR. Professor Jaydip Ray, Vice President of BOARS, also provided a summary of key highlights and successes in ENT research during the COVID-19, with a vision to promote and strengthen NIHR and BOARS links for the future.
The meeting concluded on a positive note, with a fresh, newly-elected council ready to take BOARS to new heights in the forthcoming years and promote excellence in research within ENT.