Event Details
Date: 11 October 2019
---
Location name: London, UK
---
Location address: UCL Queen Square Institute of Neurology, Queen Square, London WC1N 3BG
---
---
---
Click to view dynamic map
Report by: David Herdman, Neuro & Vestibular Physiotherapist, London, UK
This one-day meeting consisted of talks from two invited speakers and presentation of free papers and posters. The meeting was targeted towards an experienced audience, although impressively bridged the gaps between basic science and clinical practice.
Dr Christophe Lopez opened the day highlighting that vestibular dysfunction is more than just the inner ear! The vestibular system is involved in multisensory brain regions leading to many different sensations beyond dizziness including a distorted 'self of sense'. The meeting proceeded with the presentation of free papers, split between four sessions. Topics were varied and continued the theme of vestibular influences on cognitive and perceptual functions whilst also covering updates on conditions such as: cerebellar ataxia with neuropathy and vestibular areflexia syndrome (CANVAS); meniere's; and traumatic brain injury. There was also an impressive number of high-quality posters on display in the entrance hall. Professor Brian Day closed the meeting with a lecture on gait and balance in cerebellar ataxia. He summarised an impressive body of work showing that cerebellar degeneration is associated with excessive sensitivity to visual perturbations.
A special mention goes to Professor Petroc Sumner who presented work showing people with visually induced dizziness experience difficulties with static images that deviate from natural properties, possibly suggesting atypical visual processing. Prof Sumner won the poster prize, which seemed to exemplify the ethos of the meeting, creating links between different professionals and connecting different literatures.
Thank you to the organising committee for another thought provoking and intellectually stimulating meeting. The next meeting will be in Leicester 2021.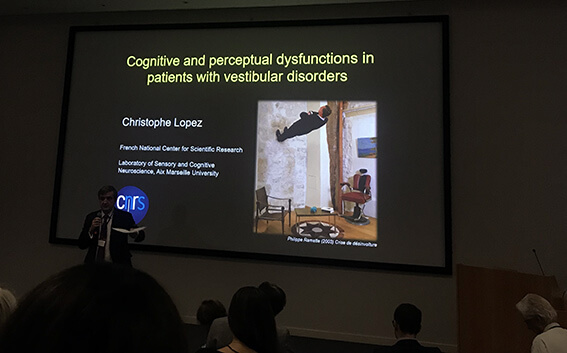 Professor Peter Rea introduces the first speaker at the BSNO meeting.