Event Details
Date: 4 February 2019
---
Location name: Edinburgh, UK
---
Location address: Royal College of Surgeons Edinburgh, Nicolson St, Edinburgh EH8 9DW, UK
---
Contact: Christy Hillman
---
Tel: +44 (0)20 7404 8373
---
---
---
Award: 5 CPD Points
---
Click to view dynamic map
Reported by: Eishaan Kamta Bhargava, Specialist Registrar, Peterborough City Hospital, Peterborough, UK
The annual meeting of the British Society of Otology (BSO) was hosted at the Royal College of Surgeons of Edinburgh.
The scientific programme was packed with a number of talks by a great mix of eminent professionals. The topics covered included a session comprising talks about the speakers' surgical and clinical experience and evidence-based otological advice, one session dedicated to endoscopic ear surgery, a session on translational research in otology and a final session dealing with the otologist as a surgeon, trainer and patient advocate. The programme was structured to stimulate discussion, which, I felt, was the highlight of the meeting.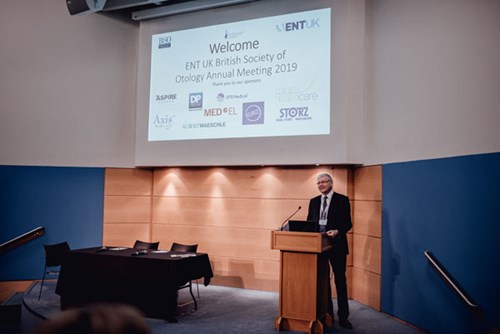 Mr Philip Robinson giving the opening address.
Some of the highlights from the morning session were talks on treating BPPV when Epley's manoeuvre fails by Mr Patrick Axon, mastoid obliteration by Ms Wendy Smith, pinnaplasty techniques by Mr Ken Stewart, and a very stimulating talk by Professor Joel Goebel on the assessment of a dizzy patient in the A&E. The highly anticipated session on endoscopic ear surgery followed, with brilliant talks covering all aspects of total endoscopic ear surgery from a panel comprising Professor Daniele Marchioni, Mr Arun Iyer, and Mr Chris Coulson.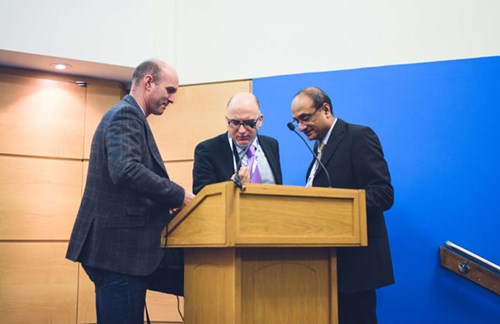 The Endoscopic Ear Surgery panel getting ready to blow the audience away - Mr Chris Coulson, Prof Daniele Marchioni and Mr Arun Iyer (L-R).
Following lunch, the session on translational research comprised some interesting talks by Dr Jacques Grange on listening advice to hearing impaired patient and hearing outcomes of tympanic membrane reconstruction techniques by Professor Manohar Bance. The final session of the day included some thought-provoking talks on creating an undergraduate ENT curriculum by Mr Richard Steven, the surgeon's role as a trainer and the faculty of surgical trainers by Mr David O'Regan, and a talk on shared decision-making concepts by Professor Janet Wilson. Mr. Philip Robinson, the presiding President, brought the meeting to an end with the AGM of BSO members and election of the next BSO President, Professor Peter Rea.
In summary, the meeting was a great update on what's the latest in otology in a nutshell, and stayed true to its tag line of 'Practical Knowledge, Science & Skills for Today's Otologist'.
Future meeting details: 6th February 2020, London