Event Details
Date: 13 September 2019
---
Location name: London, UK
---
Location address: Goldsmiths University, Richard Hoggart Building, 8 Lewisham Way, New Cross, London, SE14 6NW
---
---
---
Click to view dynamic map
Report by: Beth-Anne Culhane, Advanced Audiologist (Hearing Therapy Team Lead)
This year's British Tinnitus Association (BTA) conference and expo event was quite possibly their best yet. The pre-conference networking event was a fantastic opportunity to engage with fellow professionals, BTA staff and Trustees. The conference itself opened with the Marie and Jack Shapiro prize being awarded to Dr Eldre Beukes for her work on face to face vs internet CBT for tinnitus. David Stockdale, CEO of the BTA delivered a presentation to showcase their work, which demonstrated just how impressive this small charity is. The BTA's commitment to people with tinnitus was further evidenced by the expo event on the Saturday, a day of talks and workshops, many of which were delivered by the same people the professionals came to learn from.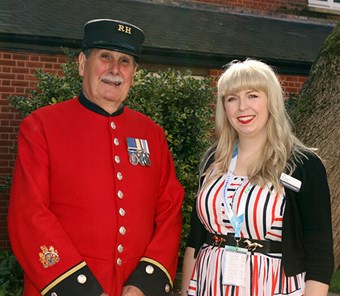 Arthur Currie and Georgie Burns-OConnell, BTA Research Officer.
Clinicians attending Ms Sam Nutt's presentation of Murphy & Phillips' tinnitus triage paper (in press) would have been interested to hear about an innovative way to reduce waiting times while ensuring patients get the help they need. Dr Derek Hoare's talk on tinnitus practice guidelines was engaging and informative. Having been involved in facilitating the 'Live Consultations' session, it was very satisfying to hear delegates say that it was a very helpful session watching Mrs Sandy Grimes (Hearing Therapist) in consultation with two challenging 'patients' (played by an actor). Dr Magdalena Sereda spoke about Cochrane Reviews, which was very informative. The keynote address by Dr Christopher Cederroth on 'Nature vs Nurture' was a fascinating presentation on the role of genetics in tinnitus. The day ended with a sobering panel presentation and discussion on suicide and tinnitus, the key message of that being that we should all consider at least basic training in this area.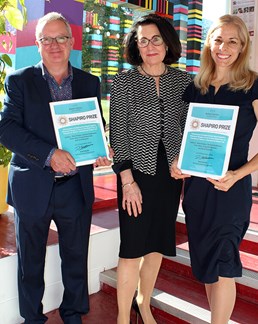 (L-R) David Baguley, Shapiro Prize Winner; Lynne Gillon Chair of the BTA; and Eldre Beukes, Shapiro Prize Winner.
Not every talk could be attended, despite the ingenuity of a conference running themed sessions in parallel with repetition of some presentations in the afternoon. With a varied exhibitor hall to visit and posters to peruse, the day was full. The word on the conference and expo street was that all of the talks were engaging, well delivered and often inspiring. What more could you ask for?