Event Details
Date:
11 October 2019
- 13 October 2019
---
Location name: Mumbai, India
---
Location address: JW Marriott Mumbai Sahar, Chhatrapati Shivaji International Airport, IA Project Rd, Navpada, Vile Parle East, Vile Parle, Andheri, Maharashtra 400099, India
---
Tel: +917021696648
---
---
---
Click to view dynamic map
Reported by: Dr Swathi Vadlamani, Postdoctoral Fellow in Otology at Apollo Hospitals, Bengaluru, India.

The Cochlear implant Group of India (CIGI) is a growing conglomeration of professionals consisting of audiologists, otorhinolaryngologists and habilitationists who are devoted to the cause and treatment of deafness. Since its birth in 2003, the group has conducted 16 conferences in different parts of the country, first held in Mumbai. Its 17th Annual Conference was again held in Mumbai at the JW Marriott Sahar Hotel from the 11 - 13 of October 2019. The event brought together more than 500 delegates from national and international backgrounds.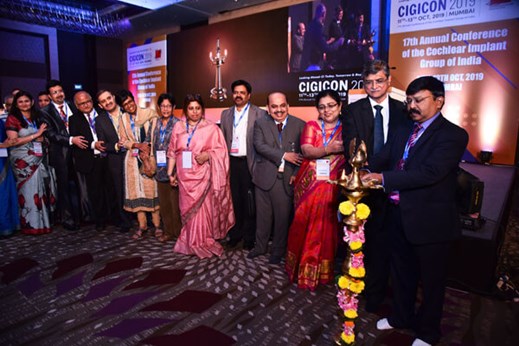 Lamp lighting ceremony by Dr Milind Kirtane along with the other founding members of CIGI.

Key International faculty of this year included Professor Catherine Birman (Australia), Ms Yetta Abrahams (Australia), Dr Brian Kaplan (USA), Professor Thomas Roland (USA), Dr Aniket Saoji (USA) and Professor Manohar Bance (United Kingdom).
The conference began with a well-attended pre-conference workshop and instructional courses on various techniques of cochlear implant surgery, challenges and complications in cochlear implantation and auditory-verbal therapy.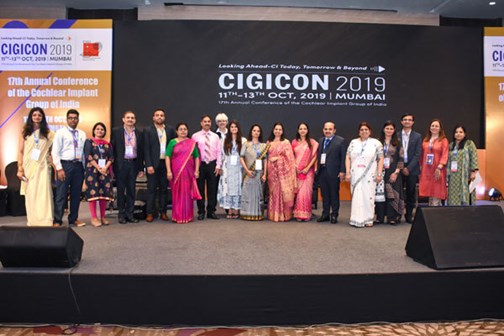 Organising committee of CIGIOCON 2019.
The second day started with a keynote lecture on surgical guidelines and recommendations for cochlear implantation in infants by Dr Catherine Birman who emphasized on the necessity of early implantation for optimum benefit. This was followed by a panel discussion on addressing issues moderated by Padmashree Professor Milind V Kirtane. Dr Milind Navalakhe, the organising chairman of the conference and Dr Hetal Marfatia, the organising secretary along with other founder-members of the group marked the lighting of the inaugural ceremony. This year's CIGI oration was delivered by a well-known audiologist and pioneer in the field, Dr Kalyani Mandke, who described her journey over 30 years in the field of deafness entitled 'Growing with Cochlear implants'.
CIGI award in the surgery category was given to Dr Sudha Maheswari for the topic entitled 'Comprehensive genetic analysis uncovers novel mutations causing congenital hearing loss'. She stressed on the advantage of genetic testing in aiding a precise diagnosis and making reproductive choices in the family. The award in the habilitation category went to Dr Banumathy Nagamani for the topic named 'Phonological awareness skills and phonotactics in paediatric cochlear implant users'.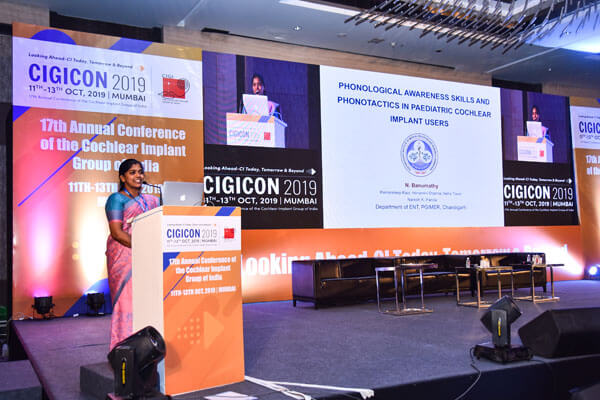 Dr N Bhanumathy, the CIGI habilitation award winner.
General body meeting of the group was held where Dr Sunil Narayan Dutt was elected as the next president of the Cochlear Implant Group of India. The following evening was filled with booming laughs echoing in the auditorium, thanks to the stand-up comedy performance, giving the delegates a warm and a hilarious tie. After a much refreshing evening dinner in the spectacular JW Mariott Sahar, it was time for the academics again.
On Day three, keynote lecture by Dr Thomas Roland on cochlear implantation in single sided deafness enthralled the audience. He discussed his views on treatment options of single sided deafness in paediatric and adult populations based on the observations from their single-sided deafness (SSD) cohort and concluded that cochlear implantation improves performance of children in schools and hence is a viable treatment option for children with SSD. This was followed by panel discussions on early intervention and adult cochlear implantation and symposium on government funded programmes in India. CIGICON 2019 ended with an exciting CIGI quiz which was fun, free and energised the audience with the elements of both competition and interaction.
The 18th Annual conference of the Cochlear implant group of India and the 6th World Congress of Cochlear Implants in Emerging Nations (CIEN) will be held from the 9 – 11 October 2020 at Bengaluru.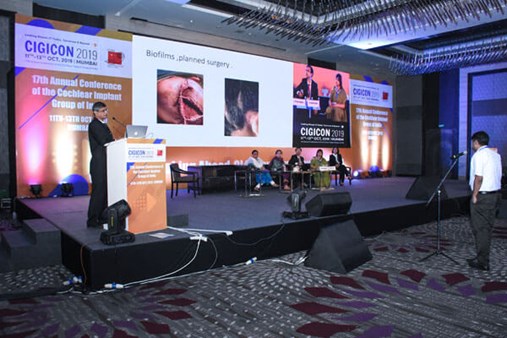 Panel discussion.