Event Details
Date:
1 May 2019
- 5 May 2019
---
Location name: Austin, USA
---
Location address: JW Marriott Austin, 110 E 2nd St, Austin, TX 78701, USA
---
---
---
Click to view dynamic map
Continue on for the full reports from the individual societies at COSM by Sujana Chandrasekhar, Keith G Trimble, 

Greg Randolph and Maura Cosetti

.
COSM
Report by Sujana Chandrasekhar, ENT & Allergy Associates, New York, NY, USA
There are two major US Otolaryngology meetings every year – the fall Annual Meeting of the American Academy of Otolaryngology - Head and Neck Surgery and the spring Combined Otolaryngology Spring Meetings (COSM). COSM 2019 was held in Austin, Texas – the Live Music Capital of the World. COSM is a union of several sub-specialty societies and provides a premier educational and technology forum for the membership of the COSM societies, Otolaryngology residents in training, medical students and allied health professionals for the purpose of disseminating and exchanging the latest cutting edge clinical and basic scientific research.
In 2019, the societies that met at COSM were the American Broncho-Esophagological Association (ABEA), the American Laryngological Association (ALA), the American Academy of Facial Plastic and Reconstructive Surgery (AAFPRS), the American Head and Neck Society (AHNS), the American Society of Paediatric Otolaryngology (ASPO), the American Otological Society (AOS), the American Neurotology Society (ANS), and the American Laryngological, Rhinological and Otological Society aka The Triological Society (TRIO).
This year, the meeting coincided with the Kentucky Derby. Fancy Derby hats are a tradition that the attendees did not miss! There is plenty of time for socializing. The Women in Neurotology evening event included a panel on Effective Networking moderated by Elizabeth Toh, MD and featuring two women and three men Society and Academic leaders.
The next COSM meeting will be held in Atlanta, Georgia from 22 to 26 April, 2020.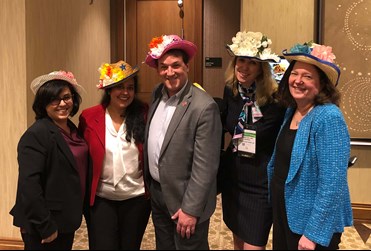 L-R: Drs Soha Ghossaini, Sujana Chandrasekhar, William Slattery, Andrea Vambutas and Nancy Young in Derby hats.
The Triological Society
Report by Sujana Chandrasekhar, ENT & Allergy Associates, New York, NY, US
The Triological Society is different from the other societies of COSM in that its mission covers all aspects of Otolaryngology. The Presidential Address at the 122nd Annual Meeting of the Triological Society was a personal recollection by Trio President Sigsbee Duck of his own experience with head and neck cancer. Hearing that side from a colleague was touching and meaningful for the surgeons in the audience. The attendees were then treated to a view on how to improve patient safety by Professor James Bagian in his Ogura Lecture. Prof Bagian is a physician, engineer and veteran NASA astronaut. Entrance into the Triological Society is a rigorous process that includes preparation of a thesis that is then reviewed and either accepted or not. At the Austin meeting, the prize-winning theses were presented – covering frailty in head and neck cancer, IL-33 expression in chronic rhinosinusitis, and patient values in nuances of surgery including surgeon presence, trainee participation, and overlapping surgery.
Subsequent sessions of the Triological Society meeting were broken out by subspecialty units and featured free papers and panels, allowing attendees to hear from the experts as well as from trainees and their supervisors. Of great concern these days is the opioid crisis, which was addressed by several papers. The paper on opioid prescribing practices in Otolaryngology during the Head and Neck and Laryngology Session showed that these medications were prescribed in excess, with 84.5% of pills being left unused. Idiopathic intracranial hypertension was the topic of the panel during the Otology/Neurotology Session. The Paediatric ENT session's free papers covered the gamut from post-tonsillectomy bleeding to medical/surgical volunteerism, to low cost ventilation tube trainers. During the Facial Plastic/Reconstructive Surgery session, the panel focused on facial paralysis. The Laryngology/Bronchoesophagology Session featured several free papers. The one reviewing 33,549 cases of adult epiglottitis in the US from 2007 to 2014 showed that even though only 1% of patients die from this condition, that risk is 3-5 times more likely in males, obstructed patients, and those in rural settings.
The allergy/rhinology session panel detailed new biologics for chronic rhinosinusitis. One general otolaryngology session panel examined new ways to accomplish life-long learning, from medical school and throughout practice, while the other probed congenital hearing loss. Clinical fundamentals, which includes improved curriculum design, trainers for examination and procedural skills, and mentorship, rounded out the Trio meeting. A preliminary report on an image recognition machine as a diagnostic adjunct for otologic disease seems to hold significant promise.
Finally, the Triological Society offers a forum for trainees to attend and present their work, with robust scholarships to defray travel expenses, and a total of 162 scientific posters. The posters could be viewed at leisure and during formal poster sessions that gave attendees the chance to interact with the authors.
The next Triological Society meeting will be the combined sections meeting at the famous Hotel del Coronado (site of the Marilyn Monroe movie 'Some Like it Hot') in Coronado, California from 23 to 25 January 2020, followed by the 123 Annual Meeting of the Triological Society at COSM 2020. Details can be found at www.triological.org.


Idiopathic Intracranial Hypertension Panel – L-R: Drs Seilesh Babu, Soha Ghossaini, Joni Doherty, Michael Hoffer, Joe Kutz.
ASPO (American Society of Paediatric Otolaryngology) Sessions
Author: Keith G Trimble, Consultant Paediatric Otolaryngologist, Royal Belfast Hospital for Sick Children, Belfast, Northern Ireland.
This year Dr Blake Papsin from Toronto opened ASPO, one of the largest COSM societies, presenting his Presidential citations to parent, Jordan Gnat, and mentor, Dr Robin Cotton, for services to paediatric otolaryngology, and Vicky Papaiannou, audiology for multidisciplinary working with paediatric otolaryngology. Keynote speakers delivered state-of-the-art reviews on inequality in North American healthcare and congenital CMV infection. Cindy Blackstock, PhD, gave the Kerschner lecture entitled, 'Substantive Equality + Culture = Indigenous Child Health'. She passionately retold the story of historical inequalities in the Indian residential school system for indigenous peoples and persistent funding inequalities at government level in 2019. Dr Soren Grant MD, PhD Immunologist delivered the Bluestone lecture on controversies in cCMV, including challenges for introducing universal newborn screening with saliva samples and expected delays in vaccination development. Dr Grant was keen to advise precautionary measures for pregnant mothers to reduce reinfection with CMV during pregnancy and avoid deafness and other neurological sequelae. CMV was a greater risk than zika virus on a global level in terms of neurological morbidity and number of cases.
Dr Richard Rosenfeld participated in his own eponymous panel – 'Resilience in Paediatric Otolaryngology' - with Dr Bob Ward from New York, Dr Mike Rutter from Cincinnati and Dr Andy Inglis from Seattle. This year's programme committee, chaired by Dr Sam Daniels from Montreal, introduced audience interaction using internet voting technology and rapid-fire four minute podium presentation sessions to increase opportunities for resident oral presentations. The first prize poster presentation was won by Pierre Fayoux, MD from University Hospital of Lille, France, for a case series of laryngeal reinnervation using nerve muscle pedicle in 16 paediatric patients with vocal cord paralysis.
If anything, APSO in 2019 seemed less formal than my previous visit in 2007 and very welcoming for international delegates. On Saturday evening the ASPO banquet was an outdoor Texas style BBQ at Maggie Mae's on 6th Street, complete with band and lead guitarist, Blake Papsin, rocking it on a 1964 telecaster! Dr Anna Messner, Chief at Houston Texas, officially accepted her office as incoming president and announced the April 22-26, 2020 meeting in Hilton Atlanta, GA.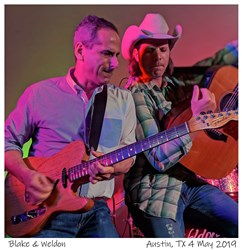 ASPO president, Blake Papsin, on lead guitar with Weldon Henson, Austin, Texas.
AHNS-ES (American Head Neck Society Endocrine) Sessions
Author: Greg Randolph, Professor of Otolaryngology Head and Neck Surgery
The American Head Neck Society Endocrine Section (AHNS-ES) has emerged as the single largest US and international society managing thyroid surgical disease and cancer with a membership of well over 1700. The Endocrine Section now has a membership of over 400.
I am proud to again outline the endocrine section vision and mission below:
Endocrine Section Vision: To provide an organisational home for all surgeons who have a special interest in endocrine surgery, under the umbrella of the American Head and Neck Society.
Endocrine Section Mission: To advance education, research, and quality of care for the patient with thyroid and parathyroid diseases.
We've had an invigorating AHNS meetings in COSM in beautiful Austin, Texas. The meeting with a plethora of endocrine surgical content-including a parathyroid surgical panel and an engrossing thyroid cancer panel emphasizing the importance of mutational analysis in the state-of-the-art treatment of thyroid cancer. At our recent meeting we had the second AHNS Endocrine Surgery Section meeting with over 70 attending. At this meeting we thanked Lisa Orloff and Jeremy Freeman for their work on the endocrine surgery section board and welcomed new board members voted in during the meeting David Shonka and Catherine Sinclair. David and Catherine already up and running with all of the different projects that the endocrine section is working on.
Women in AHNS Service:
The Women in AHNS Service have been so active. Their work has fortunately extended to the AHNS Endocrine Surgery Section. Dr Chen notes of the picture:
"The Women in AHNS Service and the Endocrine Section had a productive week at COSM.  Not only was the inaugural Margaret Butler Award for Outstanding Mentor of Women Head and Neck Surgeons awarded and the first ever Young Woman Surgeon International Traveling Fellowship awarded, but a mentoring program was also launched with many of the Endocrine Section members participating. We have a vibrant and engaged group of women head and neck surgeons in the Endocrine Section, many of whom are pictured here, enjoying Austin and each other's company!"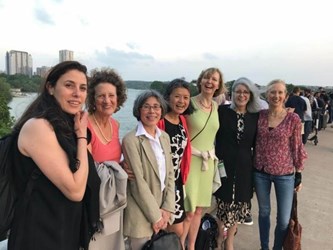 (L-R) Amanda Silver Karcuioglu, Lisa Orloff, Maisie Shindo, Amy Chen, Louise Davies, Merry Sebelik and Catherine Sinclair.
New Global Woman Surgeon Initiative in the Endocrine Section.
The AHNS Endocrine Surgery Section has instituted a Young Female Surgeon International Traveling Fellowship. This derived from the kind donations of several of the Endocrine Surgery Section's leadership. The inaugural fellow was Dr Caroline Muturi, Nairobi ENT Clinic. As a result of this Caroline was able to travel to the US and visit Dr Cherie Ann Nathan observe her in the clinic as well as the OR and familiarise her with Dr Nathan's research endeavours. Subsequently Caroline and Dr Nathan travelled together to the AHNS COSM meeting. We so much appreciate Dr Nathan's commitment and graciousness - it couldn't have been a better inaugural fellowship combination!
ANS (American Neurotology Society) and AOS (American Otological Society)
Author: Report by Maura Cosetti, MD
The 2019 annual meetings of the American Neurotology and American Otological Societies were marked by captivating invited lectures and cutting-edge scientific reports on a variety of clinical and pre-clinical topics, including cognition and hearing across the lifespan, inner ear physiology, ototoxicity, Menieres disease, treatment for vestibular schwannoma (VS) and outcomes following auditory implantation.   Panel discussions ranging from disorders of intracranial pressure to transcanal endoscopic ear surgery highlighted various diagnostic and surgical pearls in these evolving fields.
Invited lectures on cognition and hearing loss - literally and figuratively - bookended the meetings.  Professor Nancy M Young, MD kicked off the ANS meeting with the William House Memorial Lecture in which she presented her significant work on cortical predictors of language development in paediatric cochlear implantation.  On Sunday, Richard Gurgel MD (winner of the AOS clinician scientist award), discussed known and proposed links between hearing loss and dementia, reviewing his substantial work in this area.
Eminent neurotologist Professor Bruce Gantz gave the ANS William E Hitselberger Memorial lecture describing the evolution of middle fossa surgery.  A well-recognized expert in this surgical approach, he highlighted high rates of hearing preservation in VS excision and entreated the audience to continue to train future generations of neurotologists in this valuable approach. 
The genetic basis of VS was addressed by Ksenia Aron, MD, winner of an ANS Neurotology Fellow Award.  Other scientific papers presented pre-clinical and in-vitro data on neurofibromatosis type 2, with early identification of potential novel compounds and improved understanding of single fractioned radiation. James Naples, MD won the other neurotology fellow award with his work on a promising intra-tympanic otoprotective gel against cisplatin-induced ototoxicity.  In one of many interesting questions/discussion periods of the conference, he received praise and mentorship from clinician-scientist Ronna Hertzano, MD, PhD who offered insight for tweaking his experimental design to enhance future studies.
ANS research grant awardee Michael Harris, MD presented his data on verbal memory in adult CI recipients which dovetailed well with work by Aaron Moberly, MD on executive and cognitive function as predictors of speech performance in adult CI.  Hearing preservation following CI was covered in multiple scientific presentations, citing individual and electrode factors related to electrode-acoustic stimulation.
At the AOS, the Saumil Merchant Memorial Lecture was given by Daniel Tollin, PhD on later life consequences of brief periods of hearing loss during early development.  A panel on paediatric mild and unilateral hearing loss which highlighted clinical controversies and the need for additional data to guide treatment decision-making.  Two resident research awards were given: Kathyrn Noonan, MD for her research with Professors Gail and Akira Ishiyama, MD on the immune response of macrophages to cochlear implantation and Helena Wichova, MD for research mentored by Hinrich Staecker, MD, PhD on microRNA techniques to better understand the genetic basis of otosclerosis.

The Women in Neurotology (WiN) group.