Event Details
Date: 14 February 2019
---
Location name: Bahrain
---
Contact: Prof M Shahed Quraishi, OBE, FRCS, Director ENT Masterclass®
---
---
---
Click to view dynamic map
Report by: Dr Hiba Alreefy, Consultant ENT Surgeon, King Hamad University Hospital, Bahrain
The pearl of the Arabian Gulf, Bahrain, hosted the ENT Masterclass® on Feb 14 2019 at The King Hamad University Hospital at the King Hamad University Hospital under the patronage of H.E Lieutenant General (Dr) Shaikh Mohamed Bin Abdulla Al Khalifa. 
With a heavily-weighted educational programme for the one-day event, the morning started with an otology session; a talk on cochlear implants was delivered by Omar Sabra, the local Otologist at the ENT department at King Hamad University Hospital.
Peter Rea shared his fond childhood memories on the Island where his father worked at the Royal Air Force and displayed a royal invitation for dinner with his majesty the ruler of Bahrain back in 1966. He followed that with a talk on vestibular assessment.
Oliver Kaschke from Berlin delivered a lecture on paediatric airway assessment with Lt Colonel Hesham Al-Saad lecturing on sphenopalatine ganglion block.
The rhinology session took place during the first part of the afternoon with Hesham Saleh mastering evaluation and assessment of rhinoplasty. Shaz Ahmed shared his experience on approaches to the optic nerve and orbit; Jean Brice Duron a Plastic Surgeon from Paris gave a talk on tips and pearls of rhinoplasty; then Hiba Alreefy concluded the session with complications of endoscopic sinus surgery.
The second part of the afternoon was head and neck themed with Farhan Ahsan evaluating thyroid nodules and the ENT Masterclass® Director, Shahed Quraishi, delivered a talk on Minimal Access Parathyroid surgery. This had an excellent feedback from the local head and neck team in Bahrain.
The event was attended by the President of the Royal College of Surgeons Ireland- Bahrain, Sameer Otoom, who gave excellent feedback on the day and expressed an interest in further collaboration with the college in the future.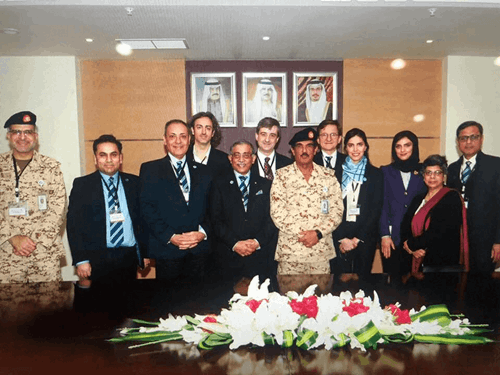 ENT Masterclass® faculty with Maj Gen (Dr) Salman Alkhalifa, Chief Executive Officer, King Hamad University Hospital at the inaugural session of ENT Masterclass® Bahrain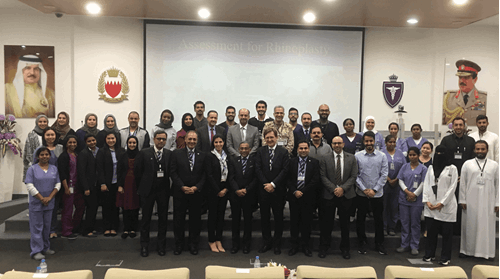 Faculty and delegates at the otology session of the ENT Masterclass® Bahrain.