Event Details
Date:
6 March 2021
- 7 March 2021
---
Location name: VIRTUAL
---
---
---
Report by Mr Mustafa Hattab, Consultant, Doncaster Royal Infirmary, UK.

Almost a year into the COVID-19 lockdown in the UK, a new training platform was introduced into the ENT world. ENT Masterclass® 'Global Townhall', a two-day academic extravaganza, was streamed live via Zoom, Facebook and YouTube in a hybrid format of four live clinical panels and 22 state-of the-art-lectures arranged into four four-hourly sessions. The faculty were the who's who of the UK ENT scene, joined by colleagues from Sydney to Houston. All this was free at the point of delivery and was very well received, with over 10,000 video views from 74 countries in the first seven days.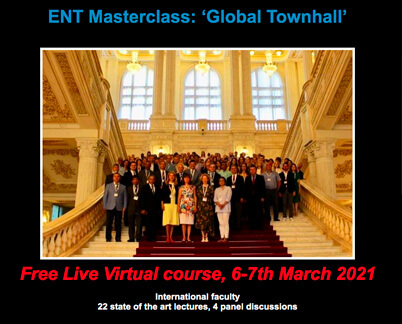 The day started with a welcome message from Prof Nirmal Kumar, President ENT UK, and Shahed Quraishi, Director ENT Masterclass. The academic programme kicked off with the paediatric otolaryngology session, moderated by Michael Kuo in his unique 'easy' style, with talks by Shazia Peer, Deepak Mehta, Mike Saunders and Ian Bruce. The otology session included talks by Prof Peter Rea, Richard Irving, Oliver Kaschke and Agnieszka Strzembosz, and was moderated by Prof Shak Saeed. Day two started with a session on rhinology and facial plastics with Prof Tim Woolford, Anshul Sama, Darlene Lubbe, Shaz Ahmed and Hesham Saleh, who was the moderator. The final session on head & neck kept the international audience on the edge of their seats with great talks by Carsten Palme and Faruque Riffat from Sydney and a futuristic presentation by Prof Vin Paleri from London. Guri Sandhu treated the audience to a comprehensive talk on lasers in laryngeal surgery, sponsored by Lumenis Ltd. It all ended with a 90-minute high-octane head & neck panel discussion moderated by Ricard Simo from Guy's Hospital, London.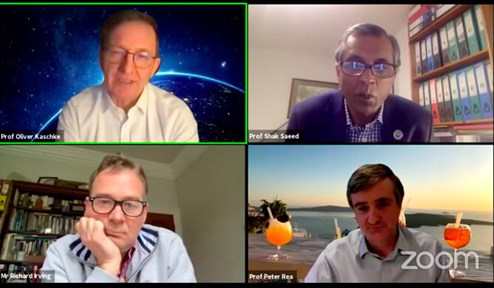 The otology panel, led by Prof Shak Saeed.
The ENT Masterclass® brand name in its 18th year, has adapted to the 'new normal' with another platform to add to its stable of mainly face-to-face courses. Plans are already underway for the 2nd ENT Masterclass® 'Global Townhall' modelled as 'The International Ward Round' on 12-13 March 2022.
The ENT Masterclass® Global Townhall can be accessed free via: www.entmasterclass.com/global-townhall-entmasterc