Event Details
Date:
4 October 2019
- 5 October 2019
---
Location name: Tashkent, Uzbekistan
---
Contact: Prof M Shahed Quraishi, OBE, FRCS, Director ENT Masterclass®
---
---
---
Click to view dynamic map
 Report by: Mr Fazliddin Muradov, Lewisham Hospital, London
Just after midnight on 3 October 2019 there was a special group getting together at Istanbul airport. Faculty members from different parts of the world were boarding Flight 368 heading for Tashkent. It almost sounded like going to the final frontier in Star Trek! Yes, for most of the faculty a journey on the Silk Route to Central Asia for the ENT Masterclass was an event in planning for two years.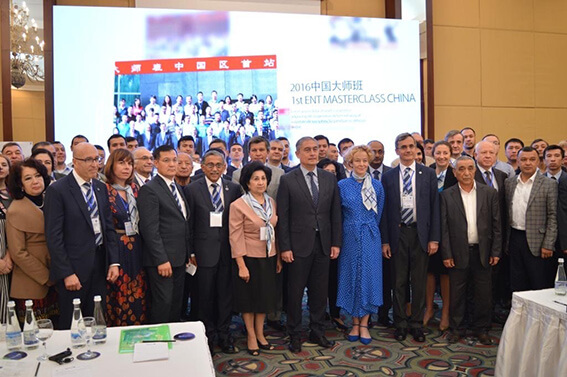 Delegates and Faculty at the ENT Masterclass® Uzbekistan, Tashkent
Professor Khalida Shaykhova, President of the Uzbekistan ORL Society, was hosting the event with very able support from her local colleagues and Mr Fazliddin Muradov, a British ENT Surgeon of Uzbekistan origin. The day started with welcome messages from Prof Shaykhova and Professor Shahed Quraishi in a hall packed with delegates from all over the country with 40 extra seats added on the day! The paediatric ENT and otology speakers set the pace with interesting talks ranging from immunomodulators in ENT to endoscopic ear surgery. The proceedings had professional real-time English/Russian translation facilities which kept the mostly Russian speaking delegates fully engaged. The day ended with a formal dinner for the visiting faculty hosted by the Uzbekistan ORL Society.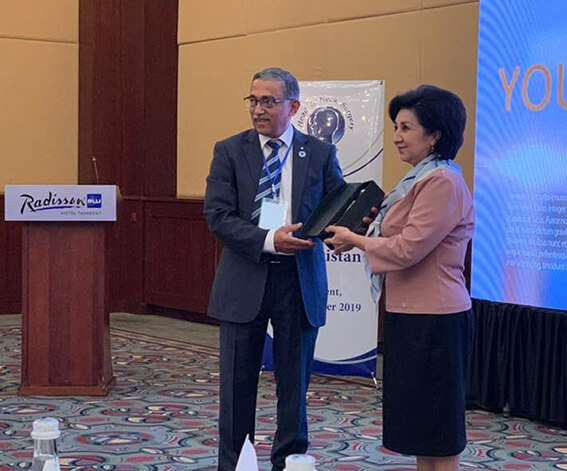 Prof Khalida Shaykhova, President of the Uzbekistan ORL Society receiving the ENT Masterclass Award 2019 from Shahed Quraishi, Director ENT Masterclass.
Day two kicked off with the popular topics in rhinology and facial plastics. The head and neck team finished off a wonderful day of academics with a lively panel discussion. Post meeting, most of the faculty went off on the Silk Route trail to Samarkand and Bukhara to see some of the most beautiful Central Asian art and architecture of the 13th and 14th century.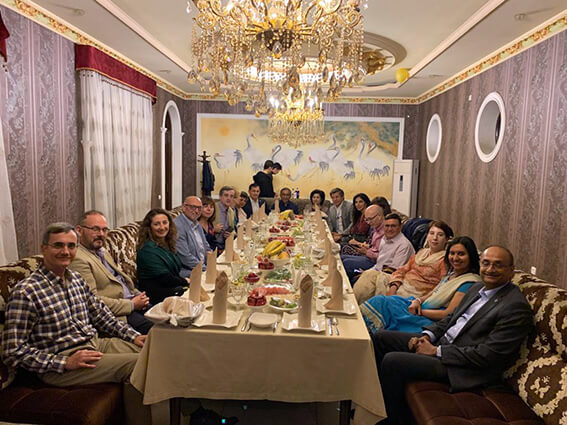 Faculty dinner with the President of the Uzbekistan ORL society. 
It was a week of sharing clinical cultures with the rich culture of the land of Avicenna, Timurlane and Babar, the founder of the Mughal Empire in India. The warmth and hospitality that the faculty received was exemplary and plans are afoot for a Central Asian ENT Masterclass in 2021, covering all the countries in the region.