Event Details
Date:
6 October 2022
- 7 October 2022
---
Location name: London, UK
---
Location address: Hallam Conference Centre, 44 Hallam Street, London, W1W 6JJ, UK
---
Tel: +44 (0)207 404 8373
---
---
---
Report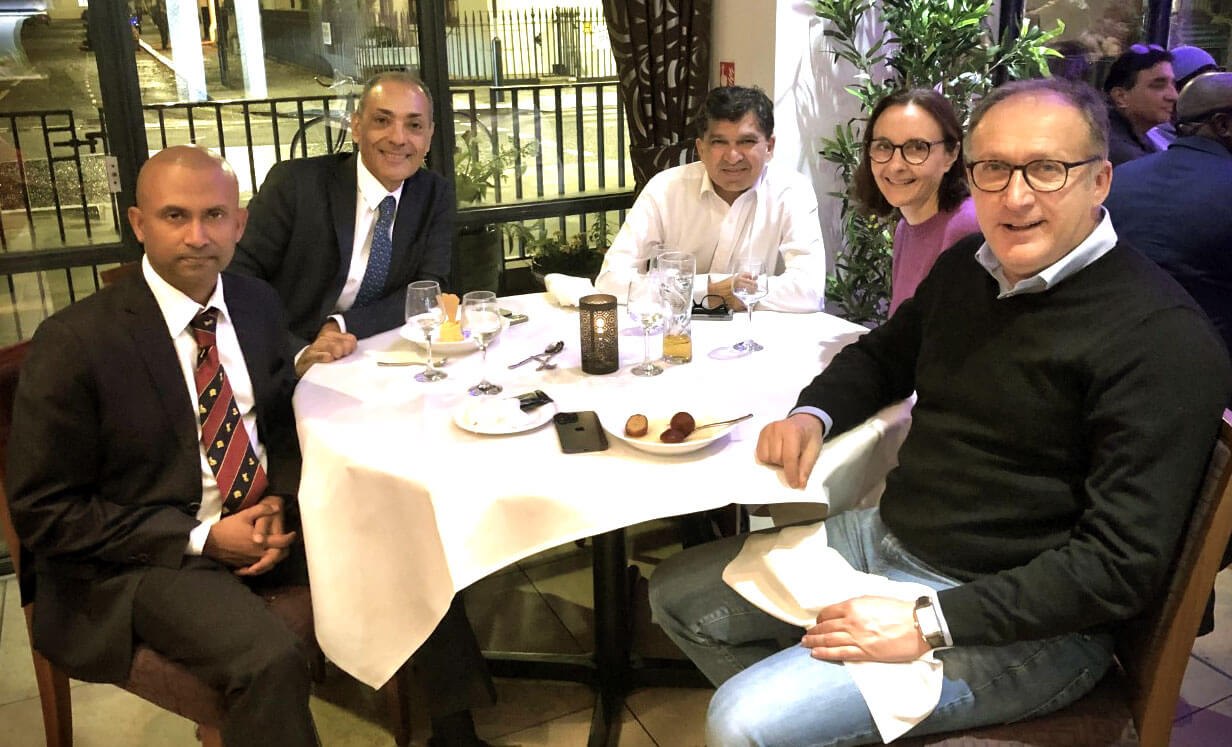 Post-meeting social event.
Organised by Conference Director Anil Joshi, the annual meeting of the British Society of Facial Plastic Surgery (BSFPS) was attended by more than 100 UK and international delegates over its two-day period. The welcome speech was given by Natarajan Balaji, President of BSPFS, with special thanks to the founding members and past presidents of the society.
The first day of the meeting was focused on the 'Juniors Forum' with lectures on septorhinoplasty, facial trauma and reconstruction as well as a talk on facial plastic fellowship training and a mock viva session for the FRCS (ORL-HNS) exam. The second day of the meeting featured remarkable lectures from experts on rhinoplasty, facial rejuvenation, facial skin cancer, blepharoplasty and otoplasty.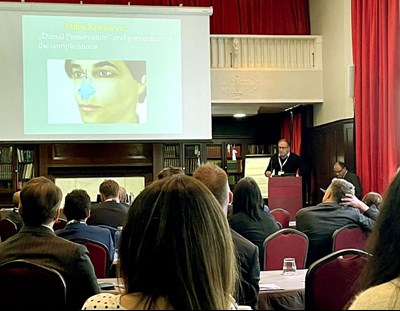 The international keynote lecture on 'New Aspects of Dorsal Preservation' delivered by Milos Kovacevic (left) from Germany was particularly intriguing. He described usage of this technique in both dorsal reduction and augmentation. There were also plenty of opportunities to ask the speakers further questions at the end of each lecture on both days.
The international expert panel discussion chaired by Professor Hesham Saleh was also very beneficial, providing delegates with insights into the management of complex and difficult rhinoplasty cases and their potential pitfalls.
There were excellent free paper presentations and poster exhibitions throughout the meeting. Theodore Howard won best oral presentation for 'Should paediatric septorhinoplasty be performed for nasal obstruction? – A systematic review of the literature'. Isabelle Williams won best poster presentation for 'The facial reconstruction multi-disciplinary team (MDT): tertiary centre management of complex facial deformities'. And the BSPFS Essay Prize went to Mohit Achanta for 'Post-COVID training challenges in facial plastic surgery and strategies to address'.
Besides the clinical and academic exchange, this event also served as a platform for networking among colleagues during the refreshment and lunch breaks as well as at the post-meeting dinner and drinks on both days.
The next BSFPS meeting will be held in Manchester, 12-13 October 2023, when we look forward to meeting more facial plastic colleagues from around the world once again.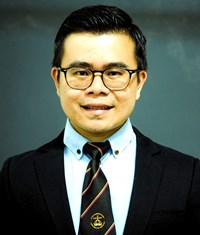 Eugene Wong, EAFPS Facial Plastic and Reconstructive Surgery Fellow, University Hospital Lewisham, London, UK.