Event Details
Date: 14 June 2019
---
Location name: Birmingham, UK
---
Location address: Macdonald Burlington Hotel, Burlington Arcade, 126 New St, Birmingham B2 4JQ, UK
---
Contact: Jessica Leigh
---
Tel: +44 (0)207 611 1736
---
---
---
Click to view dynamic map
 Report by: Anna Slovick, ST6 ENT North Thames, UK.
The 14 June 2019 marked the 5th annual meeting of the British Society of Facial Plastic Surgery (BSFPS), held at the MacDonald Hotel, Birmingham, England. The BSFPS, formerly known as Facial Plastic Surgery UK, represents ENT UK on facial plastic and reconstructive surgery and is committed to promoting and maintaining the highest standards of clinical care and safety. The organisation supports training in facial plastic and reconstructive surgery and aims to strengthen relationships with sister organisations through a collaborative approach. This was most evident through the multi-specialty faculty of conference speakers including plastic surgeons, ENT surgeons and ophthalmologists. Three themes ran throughout the meeting: cleft surgery, facial reanimation and rhinoplasty. 
The conference featured an impressive line-up of high-quality speakers, sponsors, delegate presentations and posters. Sixty delegates attended the meeting, ranging from FY1 to consultant level, with something to be appreciated by all. The conference was especially well-attended by trainees due to coverage of key exam topics, unique affordability, and poster and oral prize sessions.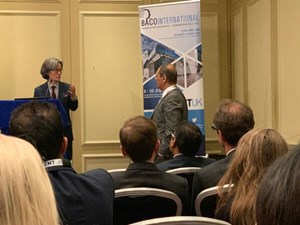 Yong Ju Jang from Seoul talking on 'correction of deformed noses'.
The conference commenced with a welcome address by the BSFPS Chair, Mr Hesham Saleh, who highlighted recent changes in the organisation and the aims to promote the highest standards of surgical practise for patient benefit, by encouraging and supporting training and advising ENT UK Council. A busy programme for BACO 2020 was also announced.
The first talk on 'Training and specialising in cleft surgery for the ENT Surgeon' by Louisa Ferguson of Evalina Children's hospital was highly inspiring to all, highlighting the importance to trainees of creating and striving towards your own goals. BSFPS was delighted to welcome the first of two international speakers, Luis Lassaletta from La Paz University Hospital, Madrid. He gave an outstanding talk on facial reanimation. The second international speaker, Yong Ju Jang from Seoul, Korea, offered unique tips on 'correction of deformed noses'. The national faculty included a mix of ENT surgeons, plastic surgeons and ophthalmologists and was equally very informative, covering pinna reconstruction, facial fat grafting and blepharoplasty and eyelid reconstruction. The prize for best oral presentation was awarded to Mustafa Jafaar, and poster presentation prize went to Fergal Cadden.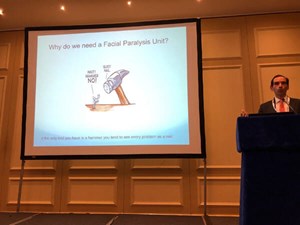 Luis Lassaletta from Madrid, talking on facial reanimation.
The rhinoplasty panel, moderated by Hesham Saleh, with panelists Shahram Anari, Peter Andrews, Natarajan Balaji, Alwyn D'Souza and Ullas Raghavan proved popular with all - with technical and practical tips on 'what I would do differently' proving enlightening and entertaining.
The meeting was rounded off with the annual general meeting, highlighting the progress of BSFPS in its fifth year alongside the introduction of changes in council format and online elections. Elections for council and regional representatives will take place in the near future.