Event Details
Date: 6 February 2020
---
Location name: London, UK
---
Location address: The Great Hall, St Bartholomew's Hospital London, W Smithfield, London EC1A 7BE
---
---
---
Click to view dynamic map

Report by: Mr Ananth Vijendren, Consultant ENT Surgeon, Lister Hospital, East and North Herts NHS Trust.  
This year's BSO annual meeting was held in the nation's capital with a record-breaking attendance of nearly 200 delegates. The day kicked off with a welcoming speech from the current president, Philip Robinson (Bristol), outlining the programme of the day as well as short biographies of the six candidates vying for the two council positions. The organisers have certainly played their part in tackling climate change with a paperless itinerary and speaker profile accessible only through the meeting's app.   
The day was divided into four different sessions, chaired by Peter Rea (Leicester); Michael Wareing (London); and Kay Seymour (London). The day featured an ensemble cast of speakers educating the crowd on difficult dizzy pathologies, commonly encountered otology presentations and novel research within Otology. It was remarkable to see Emma Stapleton (Manchester) and Monique Andersson's (Oxford) efforts in setting up a national skull base osteomyelitis collaborative within a field that lacks concrete guidance in diagnosis and management.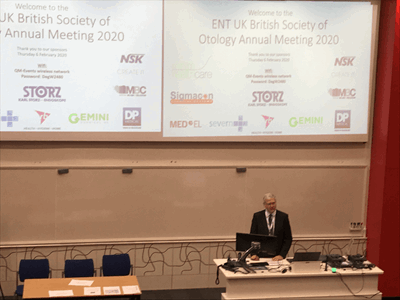 Philip Robinson giving the welcoming speech.  
A particularly impressive feature of the day was the session held on ear-related technological advances. It was clearly evident that the world of otology is vastly changing with the prospects of visual-linked hearing aids, computerised algorithms to diagnose ear conditions and an integrated device to dewax, record ear images and perform audiometric testing fast becoming a reality. Both Cian Hughes (Google) and Krish Ramdoo (Tympahealth), our former ENT colleagues, shared their inspiring journeys, passion and the pathways they took to pursue their tech and informatics dreams. 
The day ended with the BSO AGM, where Peter Rea took over as President. Tim Mitchell and Owen Judd were elected as new BSO Council members.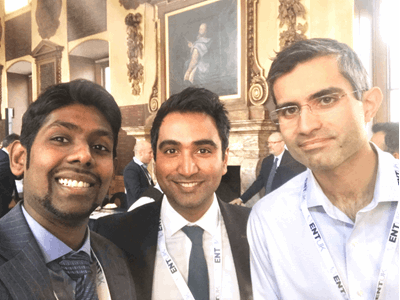 (L-R) Ananth Vijendren, Joseph Manjaly and Peter Kullar at the Great Hall during coffee break with sponsor exhibitions behind them.