Event Details
Date: 13 September 2019
---
Location name: London, UK
---
Location address: Grand Connaught Rooms, 61-65 Great Queen St, London WC2B 5DA, UK
---
---
---
Click to view dynamic map
 Report by: Ngan Hong Ta, MRes (ENT), MBBS Student at Norwich Medical School
ENT UK September Annual Meeting 2019 took place at Grand Connaught Room, one of the most prestigious conference venues in London. The theme of the meeting was reaching out beyond borders to strengthen international links between ENT colleagues across the world. The programme was reflective of this aim, featuring diverse presentations delivered by speakers from ENT and allied specialities.
The day started with a welcoming talk from President Nirmar Kumar. The first session was delivered by Carl Philpott covering the latest news on the exciting developments of the ENT NIHR Clinical Research Network. In addition to the updates on various NIHR portfolio studies across the UK, there was an emphasis on the ENT NIHR Associate Primary Investigators Scheme. This is a new NIHR-accredited initiative which offers opportunities for ENT-minded juniors to gain experience in local leadership of clinical trials, supported by mentors. This was shortly followed by the best five oral presentations by trainees. The talks included high quality research and quality improvement projects in different ENT subspecialties and medical innovations in ENT.
In the late morning, delegates enjoyed an inspiring global health talk by William Harkness on Intersurgeon, an innovative platform bringing together surgeons internationally who wish to collaborate in clinical practice, participate in the provision of training, and education or share equipment and other resources. ENT UK and Intersurgeon are collaborating to set up a global network for ENT surgeons. UK ENT surgeons with an interest in getting involved in project with Intersurgeon can direct their enquiries to Professor Tony Narula for further guidance. John Hardman from INTEGRATE delivered a talk on what the national ENT trainee collaborative has achieved in the last year. It was extremely encouraging for younger aspiring delegates to learn that ENT is a fast-growing speciality with a strong tradition for collaborations and innovations.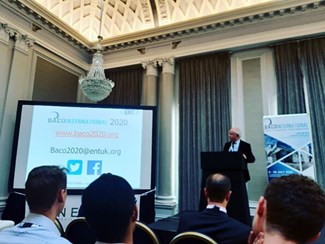 BACO 2020 Master updated delegates on what to expect at BACO 2020.
A short update on what delegates can expect from BACO International 2020 was delivered by Gerry O'Donoghue, BACO 2020 Master. It is refreshing that the conference is family friendly and will be celebrating achievements of colleagues in ENT and allied specialities with BACO 2020 Awards. Please spread the word about Mrs Prakash Narula Travelling BACO fellowships 2020 to ENT colleagues from the developing world.
The afternoon featured the theme of the meeting which is reaching out beyond borders with excellent talks delivered by ENT colleagues from Ireland and India. Last but not least, the highlight of the meeting was the patient concert delivered by members of the Shout at Cancer charity's Laryngectomy Choir.
All in all, the meeting was a wonderful success. Thank you to the ENT UK executives and trustees for all the honorary work they have done.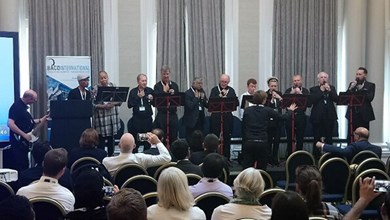 The members of the Shout at Cancer Laryngectomy Choir delivering their fantastic performance.