Event Details
Date: 15 March 2019
---
Location name: Chester, UK
---
Location address: DoubleTree by Hilton Chester, Warrington Rd, Chester CH2 3PD, UK
---
Contact: Christy Hillman
---
Tel: +44 (0)20 7404 8373
---
---
---
Award: 5 CPD Points
---
Click to view dynamic map
Report by Rajesh Anmolsingh, ST4 Otolaryngology, Royal Albert Edward Infirmary Wigan, and Rachel Edmiston, ST6 Otolaryngology, Manchester Foundation Trust. 
The ENT UK Spring Annual Meeting 2019 was held in Chester. Attendees were greeted by the friendly registration desk who were very helpful in setting up the innovative mobile app. The app's numerous features included the programme for the day, important real-time communications and notifications and the very interactive live polling feature which allowed users to participate in some of the presentations.
The meeting started promptly with the outgoing President of ENT UK, Brian Bingham's, introductory speech which included a minute's silence for the victims of the Christchurch attack.
The British Otorhinolaryngology and Allied Sciences Research Society (BOARS) Innovation & Research Free papers session began soon afterwards, showcasing some fierce competition. Presentations included international studies from as far as Canada and China. Hot topics included Chronic Rhinosinusitis (CRS) postoperative management, CRS endotyping, and quality of life impact assessment tools for tonsillitis. Mr Michael Mathers, Academic Clinical Fellow of Newcastle University, emerged as the winner with his presentation of otitis externa - epidemiological factors and management in GP practice vs. hospital. The undergraduate essay prize was presented to Mr Chang Woo Lee, University of Cambridge, for his essay entitled 'What can ENT UK do to improve healthcare in the developing world.'
Professor Mark Hull, Molecular Gastroenterologist and Clinical Research Network (CRN) Gastroenterology National Specialty Lead provided important information regarding updates in research from his specialty.
Another eminent keynote speaker, Professor Bradley Welling, made light of errors which can occur during any otological procedure despite the level of expertise and experience of the surgeon.  Prof Welling walked the attendees through some his 'level 5 evidence' and was eager to emphasise that we must learn from the mistakes of others whilst imparting surgical pearls. Prof Welling was then presented with the Lionel College Award by Prof Antony Narula.
The AGM report was presented and new trustees were presented with honorary memberships including Professor V Lund, Professor A Narula, Professor M Hussain, Professor R Ramsden and Mr D Wright. Prof Kumar was inaugurated as ENT UK President which involved the ceremonious handing over of the President's livery collar.
After a delicious buffet, Dr Theresa Fawley delivered an invigorating presentation on the multidisciplinary approach to improve care of ENT patients. Mr Neil Bateman spoke on recognising the acutely ill child. Mr Bingham, then imparted his experience as a consultant for the past 26 years. The final presentations included the RCS invited reviews update by Ms Alexandra Burton and the ENT UK strategy for the next five years by Prof Kumar and Professor Philpott.
The event was truly and thoroughly enjoyed by all attendees and marked the start of a new era for the incumbent President, Prof Nirmal Kumar.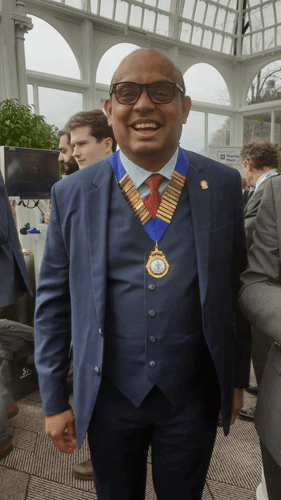 ENT UK President, Professor Nirmal Kumar.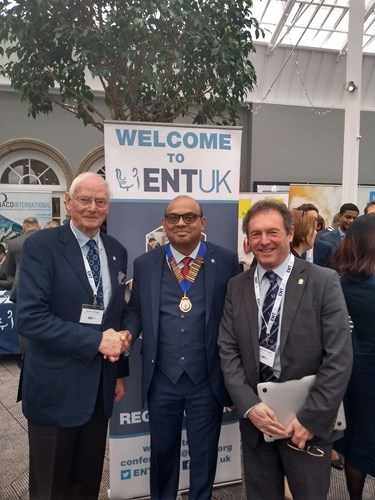 Professor Nirmal Kumar with David Wright (left) and Andrew Swift (right).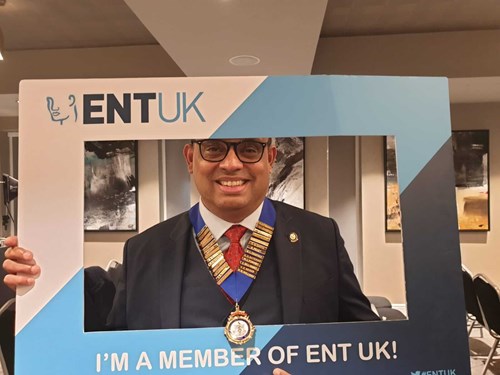 ENT UK President Professor Nirmal Kumar.