Event Details
Date:
16 January 2019
- 18 January 2019
---
Location name: Dubai, UAE
---
Location address: InterContinental Dubai Festival City, Dubai, UAE
---
Tel: +971 4 311 6300
---
---
---
Click to view dynamic map
Report by: Prof Hesham Negm, Cairo University, Egypt, and Assistant Prof Mario Milkov, Varna Medical University, Bulgaria           
The 9th Emirates Otorhinolaryngology, Audiology and Communication Disorders Congress (EROC) took place in the Festival City Congress Center in Dubai under the patronage of HH Shikh Hamdan Bin Rashid Al Maktoum. This year the Congress President, Dr Hussain Abdulrahman, arranged the meeting with the German Society of Otorhinolaryngology Head and Neck Surgery. Professor Dazert, the President and other German professors were honoured guests.
During the opening ceremony, the name of Professor Stammberger was honoured. Overall, 200 speakers shared their knowledge with 1800 participants from 43 countries who attended the event which incorporated 50 sessions and five workshops.
The social programme included a safari ride to a traditional BBQ dinner in the depth of the desert. The following night the dinner was in the fantastic hotel Atlantis at the top of the palm.
The 10th congress will take place 15– 17 January 2020.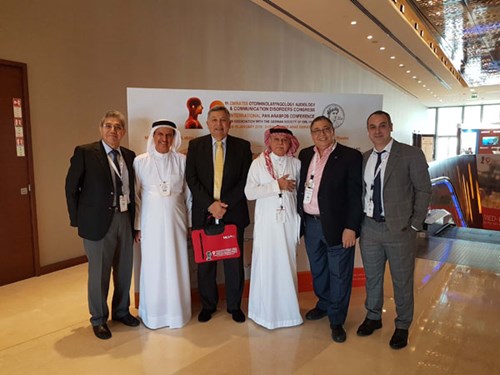 Professors Issa, Abdulrahman, Farid, Hagag, Negm and Diab.