Event Details
Date:
16 October 2019
- 19 October 2019
---
Location name: Bucharest, Romania
---
Location address: Bucharest International Conference Centre - Palace of Parliament, 2-4 Izvor Street, Bucharest, Romania
---
---
---
Click to view dynamic map
 Report by: Priya Achar, Consultant Neurotologist, Queens Medical Centre, Nottingham, UK
President Luminita Radulescu organised the 15th European Symposium on Paediatric Cochlear Implantation (ESPCI). Delegates were mainly ENT surgeons, audiologists, speech and language therapists, teachers of the deaf, neurophysiologists, and research scientists. Delegates flew in from all around the world, majority from Europe. The opening ceremony was marked with an impressive piece of music on piano played by a cochlear implantee.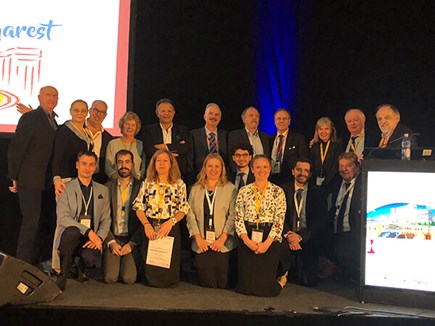 Past presidents and young career doctors.
The conference meeting started with a plenary session by Dr Andrej Karl on 'Outcome Variability in Cochlear Implantation: from anatomy to the connectome model'. The conference theme 'Holistic Approach of Cochlear Implanted Children, a Step Closer' was well followed by many discussions and presentations, one to particularly mention about was a plenary session 'Paediatric CI – 30 years and still learning' delivered by Sue Archbold. Her discussion on how subtle differences between a cochlear implantee and a normal hearing child in mainstream school could have a significant impact in their thought process. The discussion on need for societal awareness on these differences, the need for changing societal attitude to deafness, the educational challenges after implantation and the need for provision of long-term support to this ever-growing population of implantees was quite engaging. The keynote talk on early intervention by Blake Papsin from Toronto was a talk not to be missed. He couldn't emphasise more on how early bilateral cochlear implantation (CI) influenced the language development in children. In parallel to this the 'Longitudinal Outcomes of Children with Hearing Impairment' (LOCHI) study by Teresa Ching from Australia was another talk that beautifully summarised the importance of early intervention. There were lots of interesting round table presentations and free papers on non-users and partial users, vestibular assessment, imaging with CI, aetiology and genetic testing to name a few that also gave away a lot of learning points for delegates.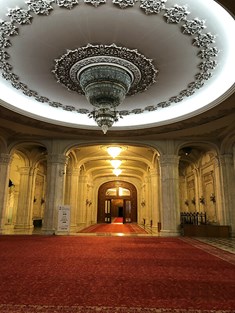 Conference venue. 
Professor Joachim Muller and Professor Thomas Lenarz opened the world of innovations and role of technology in CI to the delegates showing a glimpse of the future, giving a task to the inquisitive minds in the audience to keep pondering whilst we await the next congress meeting. Professor Gerry O'Donoghue moderated a brilliant session bringing in the young career doctors with a research background to give a six-minute talk each without any visual aids. These were based on unsolved scientific challenges on role of genome sequencing, artificial intelligence, brain mapping, optogenetics to name a few. These doctors gave a tough job to the judges to come up with a best presentation award, which was clinched by Nottingham trainee, Claudia Nogueira for her talk on 'Genomic medicine will disrupt paediatric cochlear implant'.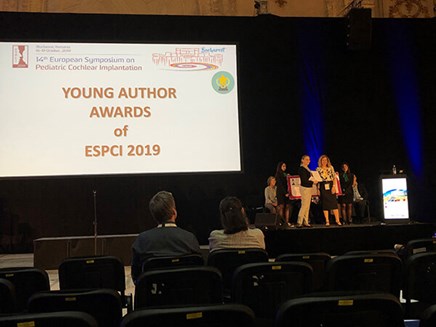 Young Doctor award presented to Claudia Nogueira.
The best free paper award went to Iva Speck and her team from University of Freiburg on FDG PET imaging of the inferior colliculi and primary auditory cortices in subjects with asymmetrical hearing loss. The closing ceremony was marked by a fun session with the past presidents talking about experiences and challenges they faced in their career, certainly inspiring to the younger team to learn from their experiences.