Event Details
Date: 8 January 2020
---
Professor Wytske Fokkens and Professor Valerie Lund on behalf of the EPOS2020 steering group [1]

EPOS2020 steering group at final meeting in Leiden, November 2019.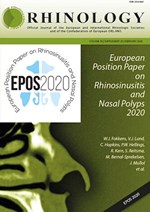 In February this year, EPOS2020 was published as a supplement in Rhinology [1], the latest iteration of a document which has had far-reaching effects in the world of rhinology (free download at www.rhinologyjournal.com) [2-4]. Since its inception in 2005 as the first evidence-based position paper on this topic, this analysis of all things related to rhinosinusitis has undergone a considerable evolution, largely due to the increasing amount of evidence appearing in the literature. It could legitimately be argued that EPOS has been one of the major instigators in the proliferation of research and high quality randomised trials due to the highlighting of the many areas where evidence was lacking. Whilst the previous editions of EPOS appeared in relatively quick succession (2005, 2007 and 2012), it was a deliberate decision to wait until 2019 in anticipation of the significant increased understanding of phenotyping and endotyping and the subsequent arrival of the biologics which will potentially have a major impact on clinical practice. It has also allowed us to expand areas not extensively covered in previous editions of EPOS such as paediatric CRS and changes in our concepts for sinus surgery.
In 2018 the core EPOS steering group was convened, comprising European and international expertise from 47 stakeholders. This included clinical rhinologists, basic scientists, pulmonologists, allergists, paediatricians and primary care practitioners as well as pharmacists, nurses, specialised care givers and importantly, patients. The document was finally reviewed and endorsed by a further 104 contributors, representing 69 countries from five continents. 
The core objective of the EPOS2020 guideline is to provide revised, up-to-date and clear evidence-based recommendations and integrated care pathways in ARS and CRS, summarising the latest literature and evolving treatment modalities, for an expanded group of target users. The AGREE II framework was utilised to address six key areas in its development: consistency in quality and presentation of information: scope and purpose; stakeholder involvement; rigour of development; clarity of presentation; recommendations and applicability; and editorial independence [5]. 
To achieve its objectives, mixed methodologies were utilised, combining evidence based medicine with real life studies and when no evidence could be found, a Delphi process was undertaken within the steering group to provide clear, inclusive recommendations for a large number of practical clinical problems. These results have been integrated into the respective sections.
An initial trawl of the available published literature was undertaken with the assistance of a medical information expert which produced over 30,000 references. These were individually reviewed and categorised to provide the basis of the document which ultimately still includes over 3000 references. Whilst much was accomplished online, the steering group physically met three times, from 2018 in the Netherlands, Belgium and USA, with a final meeting taking place in Leiden in November 2019.
In EPOS2020 we have taken the opportunity to look in some detail at definitions and classification in rhinosinusitis, we have defined a large number of terms and, where appropriate, have indicated our preferred option for future use. Importantly a new classification of chronic rhinosinusitis into primary and secondary CRS and further division into localised and diffuse disease, based on anatomic distribution has been proposed, rather than relying entirely on the traditional simplistic division of CRS into with and without nasal polyps. There are extensive chapters on epidemiology and predisposing factors, inflammatory mechanisms, genetics, (differential) diagnosis of facial pain, allergic rhinitis, cystic fibrosis, aspirin exacerbated respiratory disease, immunodeficiencies, vasculitis and granulomatous diseases, allergic fungal rhinosinusitis and the relationship between upper and lower airways. The chapters on paediatric acute and chronic rhinosinusitis have been totally rewritten. All available evidence for the management of acute rhinosinusitis and chronic rhinosinusitis in adults and children is systematically reviewed, and integrated care pathways based on the evidence are proposed. In particular, advice for patients and pharmacists is specifically provided based on their input.
A new extensive list of research needs has been derived from the document which we hope will continue to encourage us all to 'fill in the gaps'. 
In the coming years the EPOS initiative will publish regular updates on specific areas in response to new publications, and further Delphi rounds will be undertaken to guide colleagues in their daily practice.
Finally, we have been carefully considering new strategies for dissemination of this influential guideline, using the internet and social media to improve accessibility as well as translations into all major languages as with past EPOS guidelines. It was originally agreed to launch EPOS2020 at the ERS meeting, in Thessaloniki in June but of course world events have dramatically overtaken this and whilst the document will be widely discussed in 8-11 May 2021 when ERS is reconvened, we wanted to take this opportunity to bring EPOS2020 to the wide readership of ENT & Audiology News, for which we are most grateful. We would also like to draw your attention to the webinars on EPOS2020 that will be available in June (please check availability at www.euforea.eu and www.europeanrhinologicsociety.org).
References
1. Fokkens W, Lund VJ, Hopkins C, Hellings P, et al. European Position paper on rhinosinusitis and nasal polyps 2020. Rhinology 2020;Suppl 29:1-464
2. Fokkens W, Lund VJ, et al. Position paper on rhinosinusitis and nasal polyps. Rhinology 2005;Suppl 18:1-87
3. Fokkens W, Lund VJ, Mullol J, et al. Position paper on rhinosinusitis and nasal polyps. EAACI Task Force 2007. Rhinology 2007;Suppl 20:1-136.
4. Fokkens W, Lund VJ, Mullol J, Bachert C, et al. European Position paper on rhinosinusitis and nasal polyps 2012 Rhinology 2012;Suppl 23:1-298
5. Fokkens W, Desrosiers M, Harvey R, et al. EPOS2020: Development Strategy And Goals For The Latest European Position Paper On Rhinosinusitis. Rhinology 2019:57(3):162-8.