Event Details
Date: 20 February 2021
---
Time: 11:30
---
Location name: VIRTUAL
---
Contact: Ms Anja Fischer, Abbey Conference & Events
---
Tel: +353 1 648 6276
---
---
---

By Joana Raquel Ximenes Araújo, MD, ENT Assistant, Hospital de Cascais, Lisbon; Chair, ESPO Junior Board.
Facing the new challenges that COVID times impose, ESPO organised a Virtual Conference on 20 February 2021. Accredited by the European Accreditation Council for Continuing Medical Education, the one-day scientific programme had four main sessions with speakers, chairs and moderators from all around the world. Using an appealing virtual platform, participants were able to attend the meetings, pose questions and also socialise during virtual coffee breaks. Afterwards, all the sessions were available at the conference virtual portal.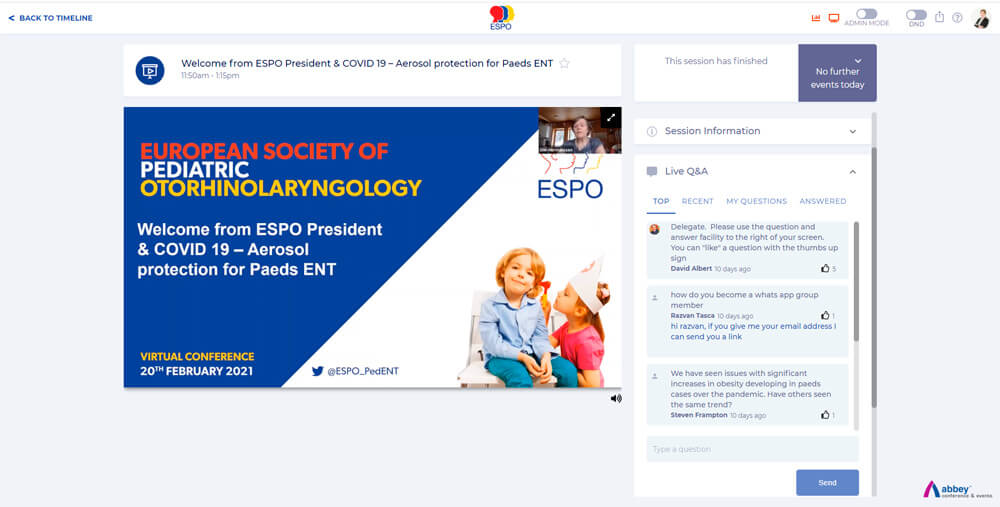 Starting with a session on COVID aerosol protection in paediatric otolaryngology, recent research work and high-risk areas testimonies were presented. In a session on pediatric cholesteatoma, panelists presented the new IPOG consensus on congenital cholesteatoma, and debated the importance of endoscopic and mastoid obliteration techniques as well as the relevance of MRI versus a second look procedure. On a session on paediatric obstructive sleep apnoea, drug-induced sleep endoscopy and its role on surgical treatment was highlighted. The session on endoscopic airway surgery showed the exciting evolving robotic surgery, as well as new balloon dilation and LASER techniques. Laryngeal cleft identification and repair was also addressed.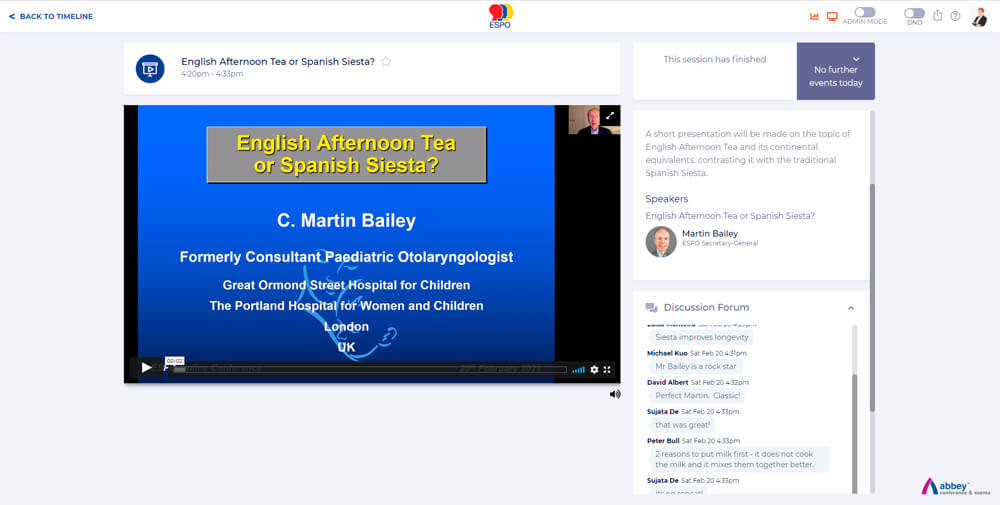 The programme ended with a surgical video session organised by Junior ESPO. Young doctors showcased their short videos in a competition, of which Catia Azevedo from Portugal was the winner. All the videos were her highly appraised, evidencing both educational and scientific value.
This was a good teaser for ESPO's next Congress, due to take place on 6-9 November 2021. Please visit our website, for more information.
To view the recording of the meeting, attendees can log into the Virtual Portal using their login details. Content will be available until 20 August 2021.