Event Details
Date:
16 October 2019
- 18 October 2019
---
Location name: Nuremberg, Germany
---
Location address: Nürnberg Convention Center, Messezentrum 2, 90471 Nuremberg, Germany
---
---
---
Click to view dynamic map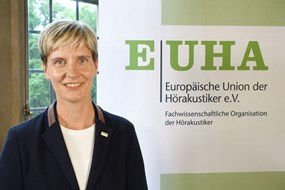 EUHA 2019: A talk with Beate Gromke, President of the congress.
It isn't long before the 64th International Congress of Hearing Aid Acousticians (EUHA) opens its gates. What may conference delegates expect in Nuremberg, 16-18 October 2019?
The world's largest Congress in our line of business offers a schedule of more than 20 expert lectures, several tutorials, and a plethora of knowledge. The congress has a focus on modern sensor technologies, artificial intelligence (AI) and digitisation. More than 140 exhibitors at the accompanying trade exhibition will be showcasing innovative technologies. The Congress is an ideal platform for networking, exchanging know-how and, above all, broadening your horizons. Acousticians who wish to remain competitive in the future are well-advised to keep-up-to scratch by benefiting from continued education. Thus, they can shape up for the future.
What's new then?
As far as our topics are concerned, we are close on the heels of the latest research and study results from hearing aid acoustics, audiology, and science. For instance, we shall be dealing with feedback suppression, hearables, micro electro-mechanical systems (MEMS) micro-speakers, as well as a wide range of AI applications.
Regarding our schedule, we will debut a new format under the heading of 'Future Friday' on 18 October 2019. In the morning, there will be fast-track presentations providing a brief and quick overview of innovations presented at the exhibition. In addition, there will be a number of special events and presentations focusing on forward-looking issues at the exhibitors' stands, and running at the same time as our lecture programme. In the afternoon, apart from the regular lectures, more presentations on future-oriented topics of hearing aid acoustics will be offered in two separate rooms.
Any special suggestions for conference delegates?
Those who wish to make the most of their time should purchase their tickets in advance from the EUHA's online ticket shop (www.euha.org/congress/ticketshop-en). This is how to reduce waiting times at the conference venue in Nuremberg. Visitors may then use the time thus gained for attending the lectures or the trade exhibition. Using the EUHA app is easy, as it shows you the conference schedule, opening times of the trade exhibition, the floor plan, the Future Friday schedule, and a whole lot more. In fact, the EUHA app puts everything for the congress at your fingertips!
Future Friday
New: Future Friday at the EUHA Congress!
Fast-track presentations, events and lectures.
'Save the date for Future Friday!' The 64th International Congress of Hearing Aid Acousticians has a special highlight to offer this year: 'Future Friday' – a day exclusively dedicated to forward-looking topics focusing on hearing aid technology. The European Union of Hearing Aid Acousticians (EUHA) and the German Hearing Aid Industry Association (BVHI) will be presenting free information on innovative issues, trends, and future developments. Trade fair visitors and conference delegates will have a chance to participate in these events on Friday 18 October 2019, running at the same time as the Congress lecture programme.
A number of exhibitors will be offering fast-track presentations at their stands in the trade exhibition during the morning, featuring, for instance, subjects such as latest-generation energy cell technology, eAudiology, bone-conduction hearing systems, and modern sensor technology.
For all those who have the time, exhibitors will be offering information on 'Strong and loyal customer relations: a factor of success for the future, too?', 'The gateway to health, wellness & information', and a 'Brain-controlled hearing aid'.
As soon as the trade exhibition closes on Future Friday at 2 pm, the focus will be on the presentations and workshops offered free of charge by the hearing aid industry. These events will be running concomitantly with the regular conference programme. The forward-looking presentations cover innovations, sketch visions, and introduce new issues such as artificial intelligence, bimodal hearing solutions, or remote fine-tuning. There will be plenty of opportunity to deal with innovative ideas on Friday afternoon. It won't be long before participants will be realising that the future starts now!
Beate Gromke, EUHA President: "Future Friday will be offering hearing aid acousticians, journeymen, master craftspeople and apprentices alike, a chance to keep up to speed and to get ready for the future!"
Dr Stefan Zimmer, BVHI Chairman of the Board: "Anyone attending this year's EUHA Congress or the trade exhibition and keen on getting information on hearing aid technology and forward-looking issues and trends, should go on Future Friday."