Event Details
Date:
15 September 2021
- 17 September 2021
---
Location name: Hannover, Germany
---
Location address: Deutsche Messe AG, Messegelände, 30521 Hannover, Germany
---
Contact: Sabine Stübe-Kirchhof
---
Tel: +49 (0) 61 31 / 28 30-14
---
---
---
With just six days to go until the 65th International Congress of Hearing Aid Acousticians, there is still time to book your ticket. The 2021 EUHA Congress programme is now available at https://bit.ly/EUHA2021-programme.
Future Friday will be held for the second time, focusing on major topics connecting with the future of hearing aid acoustics. The event is set to start on Friday 17 September 2021 at 9am, at the exhibition stands. Participating exhibitors will offer insights into the future of hearing at their stands. Delegates can discover more by going to www.ausstellung-euha.org/en/future-friday-2021.
As well as current topics such as the effects of the COVID-19 pandemic on hearing health, tinnitus and listening effort, a series of lectures centring on public health politics will be debuted on Thursday, with the telematics infrastructure in the German healthcare system being one of the subjects dealt with. On Friday, an ENT specialist and a lawyer will be discussing cochlear implants, highlighting the question of 'Patient or clinic – who is the operator of a cochlear implant? and focusing on the hearing aid acoustician's role. The multifaceted topic of earmoulds and acoustic coupling of hearing systems will be looked at from different perspectives. New findings in microphone technology, language intelligibility, and essential new service sectors for hearing aid acousticians will also play a role, as will the provision of CI and bone conduction devices.
The Online Ticket Shop is available at www.euha.org/en (admission only for individuals who are vaccinated, convalescent, or tested).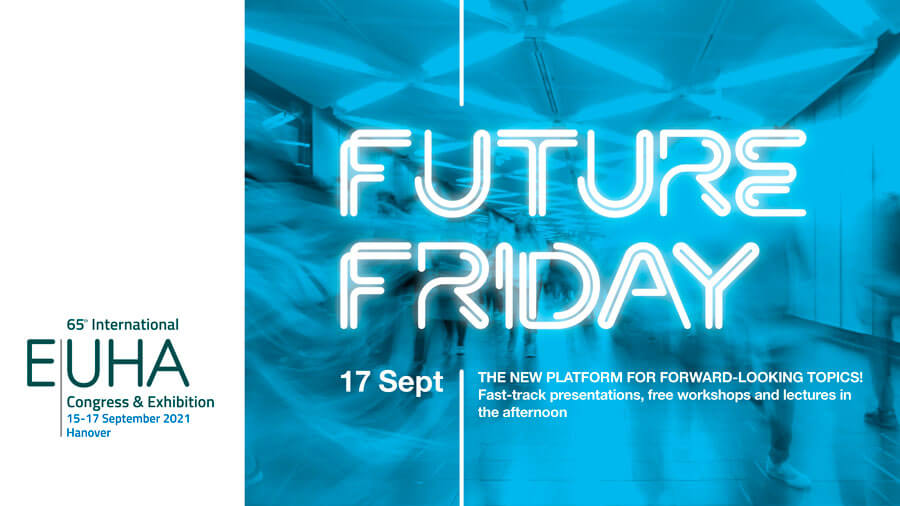 For further information please contact the Congress office at:
Europäische Union der Hörakustiker e.V., Saarstraße 52, 55122 Mainz, Germany.
Tel: +49 (0) 61 31 28 30 0
Fax: +49 (0) 61 31 28 30 30
Email: info@euha.org
Web: www.euha.org