Event Details
Date: 20 November 2021
---
Time: 09:00
---
Location name: Manchester, UK
---
Location address: Hotel Brooklyn, 59 Portland Street, Manchester, M1 3HP, UK
---
Contact: Fifth Sense
---
Tel: +44 (0)1229 840240
---
---
---
Report by: Elaine Burlingham
In attending the Fifth Sense Conference, I was hoping to learn more about smell and taste disorders, to meet fellow anosmics and I hoped we would gain more understanding of the condition and information on current and future research. I wasn't disappointed!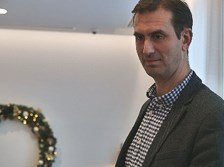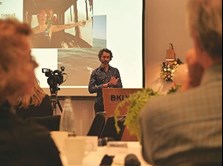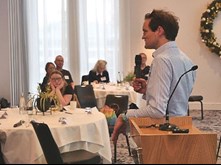 I met my first fellow anosmic in the lift on my way in and, we immediately asked each other how we had become anosmic. For me it was a virus and for him it was a brain injury. This was the first time I'd had the opportunity to chat about anosmia as though having it was the most normal thing in the world. It felt completely normal to be discussing how it happened and how it affected our lives etc. I soon found out that there were so many different reasons others were attending. One person was a congenital anosmic, one was suffering from Long Covid parosmia and others, like me from a flu like virus a long time ago. Being able to chat about how we cope, what affect it has on day-to-day life, work and families etc. was one of the best parts of being there in person.
The conference began with stories from Fifth Sense members about their experiences. Key issues that were raised included loneliness, the impact on mental health, on work, lack of support and the need for research. The most astonishing thing for me was that every one of us seemed to have experienced "the shrug'" This is how we all reflected on the responses we get from our local GP, local Health Care Professionals etc. At the end of this discussion it was felt that there is a need for more training at grass roots level across all the smell and taste disorders to lead to a better understanding of what help can be offered.
The focus on research made some complicated science very real and easy to understand. They explained current and future research and the results so far and it is so reassuring to know that research is developing on so many different smell and taste fronts.
Towards the end of a long and fascinating day, we enjoyed a Multi-Sensory Refreshment Break where we got to try the wares of a mixologist who made a variety of cocktails with fizzy, fruity and explosive examples. Some tasted great, some not so much, but what a good idea just before Christmas.
The conference closed with three key elements vital to people affected by smell/taste disorders: Research, Education and Support. If you missed the conference in person, the presentations were all recorded and are available on Fifth Sense YouTube Channel https://www.youtube.com/channel/UC8WQptnvQvFZdDgaO9kWnuw or on their website www.fifthsense.org.uk

If you get the opportunity to attend in 2023 - grab it!