Event Details
Date:
11 December 2020
- 12 December 2020
---
Time: 07:00
---
Location name: WEBINAR
---
---

 Ankur Batra, MRSC, Hampshire, UK.

 Rohit Gohil, FRCS(ORL-HNS) FRCSEd, Hampshire, UK.



The GR-ESS took place on the second Friday and Saturday of December 2020. The event was hosted by Global Rhinology Network (GRN) - a registered non-profit organisation with a mission to foster surgical training in endoscopic sinus and skull base surgery - in collaboration with the Live International Otolaryngology Network (LION) foundation.
GR-ESS 2020 was the first winter global webinar of its kind, and free of charge to delegates. Over two days, the event covered a wide spectrum of topics on endoscopic sinus and skull base surgery. Though LION broadcasts are usually hosted from the Global Telemedicine Studio in Utrecht, Netherlands, pandemic-related travel restrictions meant that the principal host, Mr Ashok Rokade and the GRN team, set up a coordination hub in Winchester, UK, whilst Mr Wilko Grolman hosted the event from the Netherlands. Support was provided by Prof Christos Georgalas in Greece and Prof Zara Patel from the USA. Allowing this additional degree of separation, the event was broadcast with near seamless efficiency over the medium of Zoom.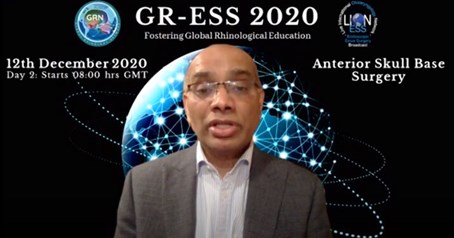 Mr Ashok Rokade (UK) introducing day two of the meeting.
Day one was dedicated to 12 hours of back-to-back talks on endoscopic sinus surgery from the pioneers in their field. All the talks were hugely informative and engaging, each being hosted and introduced by eminent specialists and professors in rhinology from around the world. Notable highlights were Prof Raewyn Campbell's and Prof Richard Harvey's (Australia) respective talks on paediatric FESS and recurrent extensive nasal polyposis, giving a sound and strong evidence base for their management philosophies in these patient groups. Other talks included Prof James Palmer's (USA) talk on revision sinus surgery, Prof Troy Woodard's (USA) talk on Vidian neurectomy, and Prof Anshul Sama's (UK) talk on the management of mucoceles. After day one, we were all pleasantly overloaded with lots of great information and tips on how we should manage our patients in future.
Day two was devoted to a further 12 hours of talks on endoscopic skull base surgery. The faculty included otolaryngologists and neurosurgeons alike. Again, the sessions were designed to cover as wide an area of this formidable field as possible in one day - and it did deliver! Talks included an inspiring presentation from Prof Darlene Lubbe (South Africa) on transorbital approaches to the skull base and Prof Paolo Castelnuovo's (Italy) lauded talk on the many tailored approaches that he uses to access the frontal sinus. The audience were alerted to the stark reality of this kind of surgery by Prof Ricardo Carrau's (USA) session on the management of internal carotid artery injury – to tread with caution and adopt a close team-based approach. A mention must be given to Prof Satish Jain (India) on his talk on juvenile nasal angiofibroma – the subject is an FRCS viva regular, but the examples shown during the session were of the likes not seen by the organising faculty themselves!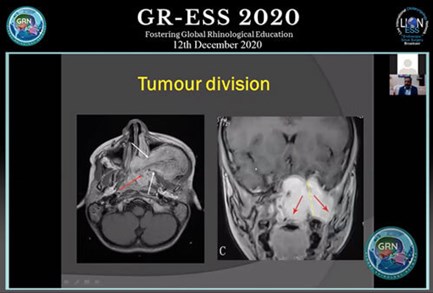 Prof Satish Jain's (India) presentation on juvenile nasal angiofibroma.
In all, GR-ESS 2020 managed to attract 30 global faculty and nearly 2300 attendees over the two days. Feedback has been hugely complimentary, with some centres using the event as a training day for registrars. Thanks should be given to Mr Ashok Rokade for organising such a great and immersive event. Further thanks is given to all the faculty who both presented and coordinated sessions and questions from the delegates.
The talks themselves will be available on the Global Rhinology Network YouTube channel channel in due course.
 For more information, please visit www.globalrhinology.org; @global.rhinology on Instagram and Global Rhinology Network on Facebook.