Event Details
Date: 2 March 2019
---
Location name: Limerick, Ireland
---
Location address: UL-GEMS, Faculty of Education & Health Services, Garraun, Castletroy, Co. Limerick, V94 T9PX, Ireland
---
---
Click to view dynamic map
Report By: Professor John Fenton 
The annual Head and Neck Section of the 26th Sylvester O Halloran Surgical Scientific meeting was held at the University of Limerick Medical School (UL-GEMS) on 2 March 2019. Unfortunately the 2018 conference had to be cancelled due to hazardous travel conditions after an unusually severe snowstorm for our temperate climes.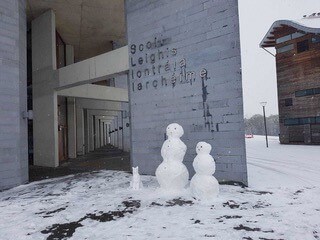 UL-GEMS venue 2018 – cancelled.
We were enthralled with a series of excellent presentations from several Irish centres and a few overseas representatives covering the entire gamut of the multidisciplinary spectrum.  What was especially worthwhile was the subsequent vibrant and relaxed discussion of each paper including the very welcome contribution from the floor. Many of the seasoned veterans present imparted relevant nuggets of clinical and academic wisdom which added quite significantly to the universal learning experience. As per usual, and now almost traditional, nearly all of the talks were from ORL-HNS and the majority of presenters showcasing their work were at the early stages of their postgraduate careers. The general consensus amongst attendees was that the convivial environment was a very welcome and almost forgotten experience in the conference circuit.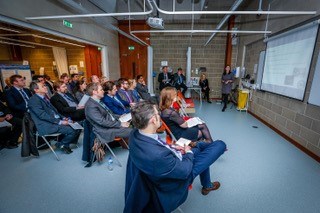 Attentive audience.
There were special words for the Co-Chairperson, Mr Gerry O'Leary, who had recently retired from clinical practice in the public service at the South Infirmary Victoria University Hospital in Cork. Professor John Fenton manoeuvred a medley of what was essentially an oral Festschrift in honour of Mr O'Leary interspersed between papers, lest we forget his enormous contribution to clinical and training aspects of our discipline. We were advised of his well-known calm, unflappable and expert skills in head and neck surgery, his generosity of clinical assistance for colleagues and his genuine care for patients. The audience were reminded of his decade-long tenure as an examiner in the intercollegiate specialty examinations which is unprecedented, certainly in Irish ORL-HNS circles, but also his silent and subtle support for candidates during these stressful events.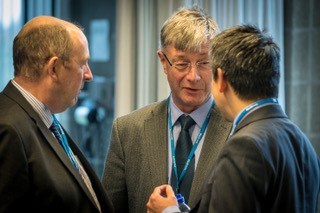 (L-R) Mr Brian Moriarty, Mr Gerry O Leary and Professor Guan Khoo.
The winner of the prize for the major oral presentation was Dr Mudassar Majeed, a general surgeon representing Cork University Hospital with a paper entitled 'Intra-operative adjuncts in minimally invasive radio-guided parathyroidectomy'. First prize for the minor oral presentation went to Dr Michael Walsh at Tullamore General Hospital with a retrospective audit of patient satisfaction pre and post tonsillectomy in children. The best poster on 'foreign body reactions to oxidised regenerated cellulose originated at the Department of ORL-HNS at the Royal London Hospital, the first author being Dr Lisa O'Byrne.
The evening concluded with the customary semi-formal dinner at the Dunraven Arms Hotel in Adare, where we joined the other perioperative branches for their plaudits and the obligatory end-of-speech joke from the overall congress convenor, Professor Calvin Coffey.  We look forward to welcoming you all to our next conference in early March 2020, snow and god-willing.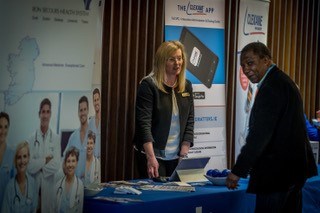 Dr Majura Kaare, ENT UL-GEMS Tutor, and Ms Eileen Hayes of Bon Secours Hospital, Limerick, at Barringtons.