Event Details
Date:
11 October 2019
- 12 October 2019
---
Location name: Kilkenny, Ireland
---
Location address: Dublin Rd, Lyrath, Kilkenny, Ireland
---
Tel: +353 1 8092985
---
---
---
Click to view dynamic map
 Report by: Michael Walsh, ENT Spr1, ORL-HNS Department, Beaumont Hospital, Dublin, Ireland.
The 60th Annual Irish Otorhinolaryngology, Head and Heck Meeting took place in the surroundings of Lyrath Estate in county Kilkenny, on the 10-11 October 2019. The conference commenced with several head and neck presentations offering varied and insightful discussions. Multiple expositions on parathyroid imaging and intraoperative hormone analysis aroused much debate and discussion, cumulating with Dr Stephen Garry and Dr Isobel O'Riordan sharing the overall presenters prize for their presentations on 'Initial experience with intraoperative parathyroid hormone (PTH) assay monitoring at a single Irish institution' and 'Does endoscopic sinus surgery benefit patients with comorbid asthma: provisional results from our prospective pilot study' respectively. The rhinology segment offered up an excellent clinical and economic tool, with a paper on the 'Cost effectiveness of a fractured nasal bone clinic' by physicans associate, Kellie Nwaokorie.
Following the morning sessions, the break allowed for much reconnaissance around the trade tables, with an excellent exhibition of innovative and inspiring developments from within our speciality.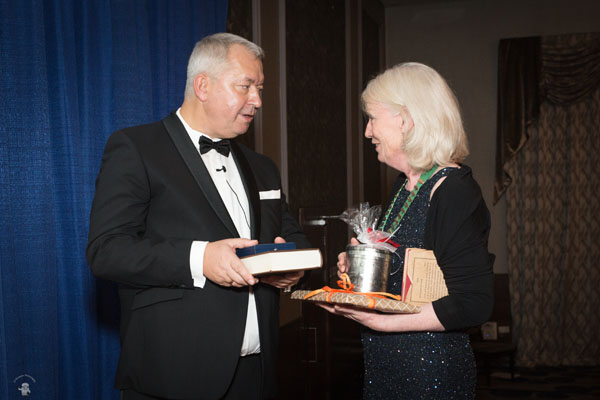 Outgoing IOS President Ms Cate Scally talking with with Prof Johannes Zenk who was the Wilde Discourer.
Carrying on from the otology section in the afternoon, was Professor Johannes Zenks with his presentation 'What would Wilde say? which was witty and topical, marrying the technological advancements of today with the clinical acumen of the past. The social side of the Irish Otolaryngology society (IOS) meeting was evident for all with a very enjoyable dinner accompanied with awards for the ever-competitive golf, with much congratulations going to Professor Tadhg O'Dwyer and his wife Elizabeth for winning the male and female competitions respectively.
After a late night at the more than hospitable hotel bar, the paediatric session commenced with an insightful talk on resilience from guest speaker, Ms Victoria Ward. There were multiple exciting papers into the delivery of paediatric care, notably Mr Myles Black's team from Belfast advocating the use of electronic operation notes, to improve patient safety and compliance to national guidelines.
The Irish beating Samoa in the rugby brought an end to certainly a very enjoyable and educational conference, from a junior doctor's perspective. Special thanks to Professor Rory McConn-Walsh and Mr Keith Trimble. Secretaries of the IOS who organised the conference. We wish Ms Cate Scally all the best and applaud her hard work over the last two years, as the outgoing IOS President. We look forward to Professor Nash Patil taking up the mantle, as well as next year's meeting in Lough Eske, County Donegal.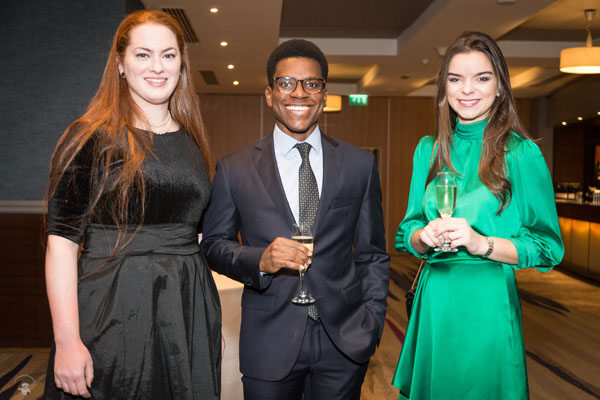 Juniors - The next generation.
 Report by: Catherine Ryan O'Neill, ENT OPD Nurse at University Hospital Limerick, Ireland. 
From a nursing perspective it was interesting to listen to all presentations and meet with many of the sponsors who displayed state of the art medical devices and pharmaceuticals at their exhibition stands. It was also a great opportunity as a platform to network with other nurses who work within the ENT service in other hospitals and who are running nurse led clinics.
As I work within the ENT outpatient setting where we are caring for an ageing population, and an ever-increasing demand for bed and theatre access I was particularly interested in the presentation on 'Cost Effectiveness of a Fractured Nasal Bone Clinic' under local anaesthesia. The results of this study showed that it was a cost-effective solution while not impacting on patient satisfaction.
The importance of Patient Education and Health Promotion was highlighted on multiple occasions throughout the meeting. A study of interest was the 'Review of Skin Allergy Testing in Patients with Symptomatic Rhinitis'.
Allergic Rhinitis is experienced by 30% of our population. This can significantly affect quality of life for such patients. It highlighted the possibility that the current approach within the OPD setting could include skin allergy testing and an increase in Patient Education from within our nursing cohort going forward.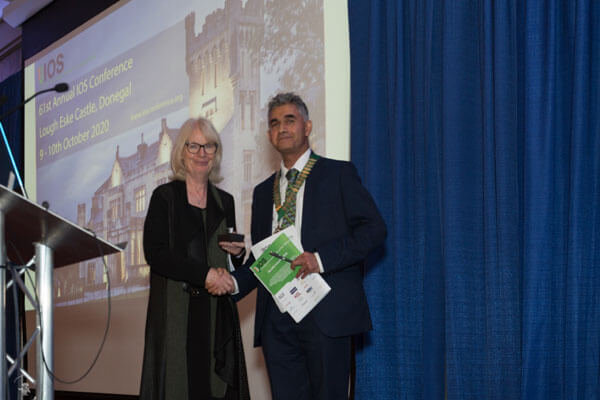 Incoming IOS President Prof Nash Patil, pictured with outgoing president Ms Cate Scally.