Event Details
Date:
14 October 2022
- 15 October 2022
---
Location name: Belfast, Northern Ireland
---
Location address: Titanic Exhibition Centre, Titanic Quarter, 17 Queens Road, Belfast, Co. Antrim, BT3 9DU, UK
---
Contact: Mr Keith Trimble
---
Tel: +44 (0) 28 9099 6911
---
---
---
Click to view dynamic map
Report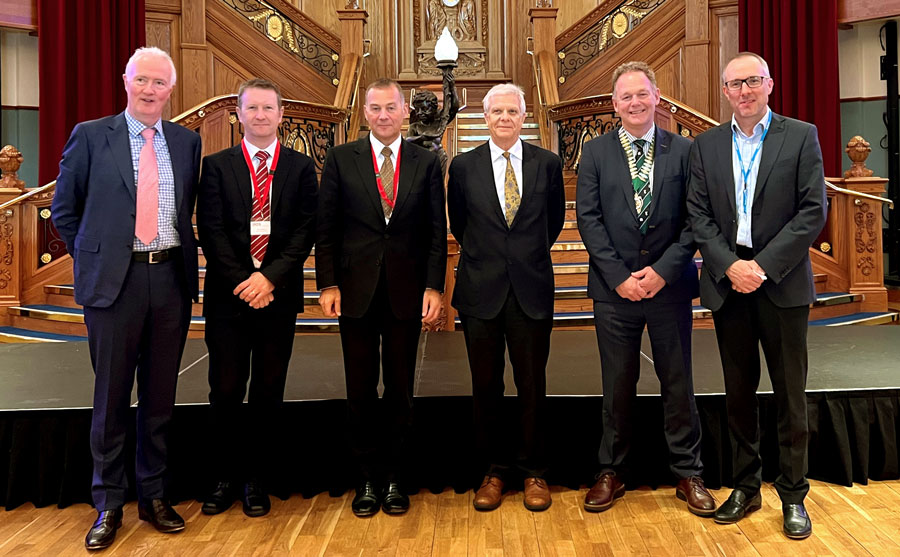 L to R: Professor Rory McConn Walsh, Dublin; Neil Bailie, Toronto; Richard Irving, Birmingham; Professor John Rutka, Toronto; IOS President Robin Adair, Belfast; IOS Secretary Keith Trimble, Belfast.
The Irish Otorhinolaryngology/Head and Neck Society Annual Conference 2022 was a jam-packed schedule of academic and social events. It was well organised and had a glamorous and beautiful setting in the Titanic Conference Centre and Hotel.
If you didn't attend, you missed a superb round of CME talks from world leaders on this year's topic, neuro-otology. Professor John Rutka, Toronto, lectured on his learnings from years of experience applicable to all sub-specialties; Richard Irving, Birmingham, told us of the history and future of neuro-otology and Neil Bailie, Toronto, but originally of Northern Ireland, gave a talk on vestibular assessment that the trainees studying for exams found useful.
Guan Khoo, Dublin, and Colin Leonard, Belfast, added to his with their talks, but my usual favourite at these conferences was saved for last with the consultant round table discussion of cases between Professor McConn Walsh, Dublin, and Prof Rutka, Irving and Bailie and contributions from the floor. This was dispersed amongst 36 high-quality free papers from trainees from across the British Isles.
The main social event each year is Friday night's dinner with Wilde Discourse, and this year didn't disappoint. It was fitting that a discourse so steeped in history was given in a venue that was similarly inclined. As many as 120 delegates wined and dined in the fantastic setting of the Harland and Wolff Drawing Room, where over 1700 ships including the Titanic were designed. Superb food was accompanied by conversations lasting long into the night.
I'd like to congratulate the free paper winner Al Schranz, St Vincent's Hospital, Dublin, for 'Retrospective analysis of the management of head and neck lipoma', and the best poster winner Kristine Dodds, Royal Victoria Hospital Belfast, for 'The Bleeding Box Project'. And I look forward to welcoming you all to next year's conference on 13 and 14 October 2023.
David Brinkman, Specialist Registrar, University Hospital Waterford, Republic of Ireland.