Event Details
Date: 10 October 2020
---
Location name: VIRTUAL CONFERENCE
---
Contact: Mr Keith Trimble
---
Tel: +44 28 9099 6911
---
---
---
Report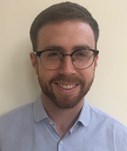 By Thomas Crotty, Core Surgical Trainee 2 (ST2), Sligo University Hospital, Co. Sligo, Ireland.
The arrival of the COVID-19 pandemic has forced scientific conferences to revolutionise the traditional face-to-face method of sharing new research findings in favour of more socially distanced alternatives.
On 10 October 2020, the 61st Annual Meeting of the Irish Otorhinolaryngology/Head & Neck Surgery Society embraced technological innovation by migrating to a novel virtual platform. This provided the perfect conditions for an exhibition of stimulating presentations to be delivered by delegates from the comfort of their own homes. The condensed scientific programme offered 22 oral presentations interposed by an insightful panel discussion on the whole gamut of ENT Emergencies in Children, chaired by Professor Ray Clarke.
Following Professor Patil's presidential address, Kellie Nwaokorie, Physician Associate in Beaumont University Hospital, commenced the paper presentation session with her study, titled 'Analysing the Accuracy of Healthcare Professionals' Nasopharyngeal Swab Technique In SARS-CoV-2 Specimen Collection'. Kellie deservedly took home the award for best oral presentation, despite tough competition from Gary Sexton, who received an honourable mention for his work on head and neck cancer in Ireland.
As the facilitator of the audio-visual presentations, Mr David Brinkman (Dublin) commented: "The cross-border co-operation between North and South was never so apparent: not only was research both North and South of the border represented well, but the organisation of the event was seamless from multiple locations around the island of Ireland, made possible by the fact that the event was held online." He added, "it was great to see and hear our colleagues from around the country and indeed from around the world taking part in the event. The social element was hindered by the distance, but I can certainly see the advantages of holding the event online: being able to tune in from anywhere around the world or from the comfort of your own home, keeping in touch with colleagues while we must remain distant, reducing costs of travel and room rental and allowing ideas and knowledge to be spread despite remaining isolated amongst others. The first query the organisers had was from Iraq!"
In his closing speech, Professor Patil commented: "It was a brilliant showcase of Irish and UK research, which was tuned into by delegates from around the world. This format may well be here to stay for future events! Next year's meeting takes place on 8-9 October 2021. We don't know at this time whether we will be virtual, physical, or a hybrid of the two!... But keep an eye on our website www.iosconference.org."