Event Details
Date:
13 May 2019
- 24 May 2019
---
Location name: Italy
---
Click to view dynamic map
Report by: Mr Stephen Broomfield, ENT Consultant, University Hospitals Bristol, UK.
There is no doubt in my mind that endoscopic ear surgery (EES) is the most important recent innovation in otology. The prominence of EES at otological conferences highlights the advantages that it can bring to a modern otological practice. A recent audit in my department concluded that approximately half of our combined approach tympanoplasties (CATs) should be possible purely endoscopically.
Having had minimal exposure to EES in my training, I previously attended the 4th UK EES course in 2017. I had already started to increase my experience with EES but, like many starting on this journey, had encountered some barriers. I was therefore very grateful to be awarded the 2019 Matthew Yung and Chris Raine Travelling Fellowship to visit Italy and gain further experience in EES. The visit consisted of three parts:
1. Participation in the EES Dissection Course at Bologna University.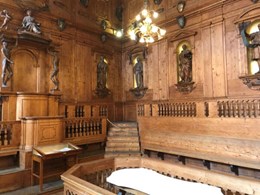 I started in Bologna with a visit to the historic anatomical theatre of the Archiginnasio where, surrounded by statues of early physicians including Hippocrates and Galen, I could imagine dissections taking place in ancient times. It was therefore humbling to be in Bologna University's dissection lab to learn endoscopic anatomy the following day. The faculty consisted of members of the International Working Group on EES from across the world who provided individualised practical tuition in both basic and advanced EES techniques.
(Image - Anatomical theatre in Bologna)
2. Attendance at the VIII International Workshop on EES in Modena.
For the next two days I joined a larger international group observing live surgery in Modena, led by Course Directors Professor Livio Presutti and Professor Daniele Marchioni. Cases included the full range of EES including skull base surgery, interspersed with lectures covering all aspects of EES. There were demonstrations of piezosurgery, 3D exoscopes and robotic surgery and plenty of time for discussion including training in EES and the classification of cholesteatoma.


3. Visit to the department of Prof Daniele Marchioni in Verona.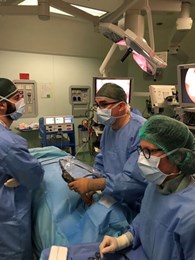 I completed my visit with a few days in the operating theatre in Verona with Prof Marchioni and his team. This provided a fantastic opportunity to observe the finer details of EES from a master surgeon, including the setup in theatre and further tips on how to practise and teach EES. I was able to observe many of the key otological procedures performed endoscopically including tympanoplasty, cholesteatoma surgery and stapedectomy. There were also cases performed with a combination of the endoscope and microscope including CAT and trans-cochlear approaches to the IAM.
(Image - Professor Marchioni examines the sinus tympani of the left ear by standing on the right side of the patient and using a 45-degree endoscope.)
Prof Marchioni and his team were extremely welcoming, and I was impressed, not just by their surgical skill, but also by their belief in following an anatomical and patho-physiological approach in managing chronic suppurative otitis media (CSOM). This is aptly demonstrated in Prof Marchioni's excellent textbooks - a 'must-read' for any aspiring endoscopic ear surgeon. Prof Marchioni's original artwork for his books is a truly impressive collection that demonstrates a passion for otology extending far beyond the use of the endoscope.
This passion was infectious, and I now start all major ears endoscopically. With perseverance, the barriers previously encountered have become less problematic, the advantages for patient and surgeon are clearly apparent and the benefits for trainees and the theatre team have been very welcome.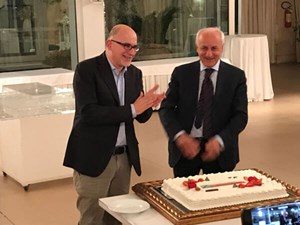 Course Directors Professors Daniele Marchioni (left) and Livio Presutti (right).