Event Details
Date: 6 February 2021
---
Time: 08:30
---
Location name: Virtual
---
---
---
---
---




Report by Eman Hasan, Rania Fernandes and Jared McSweeney.
Undergraduate ENT Societies from nine medical schools across the UK came together to form the National ENT Student Societies (NENTSS) with the aim of promoting otolaryngology as a career amongst medical students and foundation doctors. This collaboration consisted of Anglia Ruskin, Barts, Birmingham, Cambridge, Dundee, Edinburgh, King's College London, Liverpool and Manchester. Together, our committee hosted the NENTSS Conference 2021. It was a delight to see over 170 attendees tuning in from 14 countries, to immerse themselves in the exciting keynote talks.

Mr Joseph Manjaly headlined the event with his captivating introduction into the brilliant surgical specialty of otolaryngology, convincing us of its variety, excellent work-life balance and friendly community. Ms Emma Stapleton enlightened us with her thought-provoking talk on improving diversity in ENT, and how collaboration takes you further than competition. We then had the pleasure of learning about Mr Adam Donne's fulfilling career in paediatric ENT. Mr Tom Hampton discussed global health challenges faced by ENT, shared his own experiences, and offered advice on how to get involved. Inspiring us on the futuristic theme of Innovation in ENT was Mr Rodney Mountain, who explored the mindset of design, realistic medicine and the necessity for creativity.
The afternoon was bursting with a variety of workshops. ENT registrars imparted their wisdom on how to boost surgical training portfolios, pursue a residency in the USA, and explore plastics as a specialty. Delegates also had the opportunity to learn practical skills to manage epistaxis, supplement their knowledge of head and neck anatomy with virtual simulation, and experience a live cricothyrotomy demonstration.
Interactive case-based discussions on cochlear implants, hearing loss and neck emergencies broadened attendees' understanding of these conditions. For the academically inclined, a journal club station walked attendees through the process of critically appraising papers and getting into research. Blair Wilson won the Best Oral Presentation with his audit on paediatric intracapsular tonsillectomies. The Best Poster Presentation Prize went to Dilen Parmar, who described the national trainee-led SeaSHeL collaborative study. Prizes were kindly sponsored by RCSEng, RCSEd, and the MDU.
The conference wrapped up with a panel discussion, addressing questions that arose throughout the day from career advice and mentorship, to improving workplace culture as a junior trainee. The committee was so pleased to hear such encouraging feedback from delegates, as it ​validated our efforts and intentions to promote variety in ENT.
Delegate feedback: "Such an inspiring talk! Such a relevant topic right now. As a female medical student aspiring to have a career in ENT, this really motivated me to push through the glass ceiling and not be put off by anyone on the way!" #NENTSS2021 delegate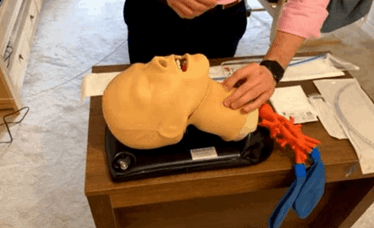 Mr Neil McNiven demonstrates the significance of anatomical landmarks while performing acricothyrotomy.