Event Details
Date: 14 October 2022
---
Location name: Leeds, UK
---
Location address: Royal Armouries Museum, Armouries Dr, Leeds, LS10 1LT
---
Contact: Sarah O'Donnell, Honorary Secretary
---
---
---
---
Report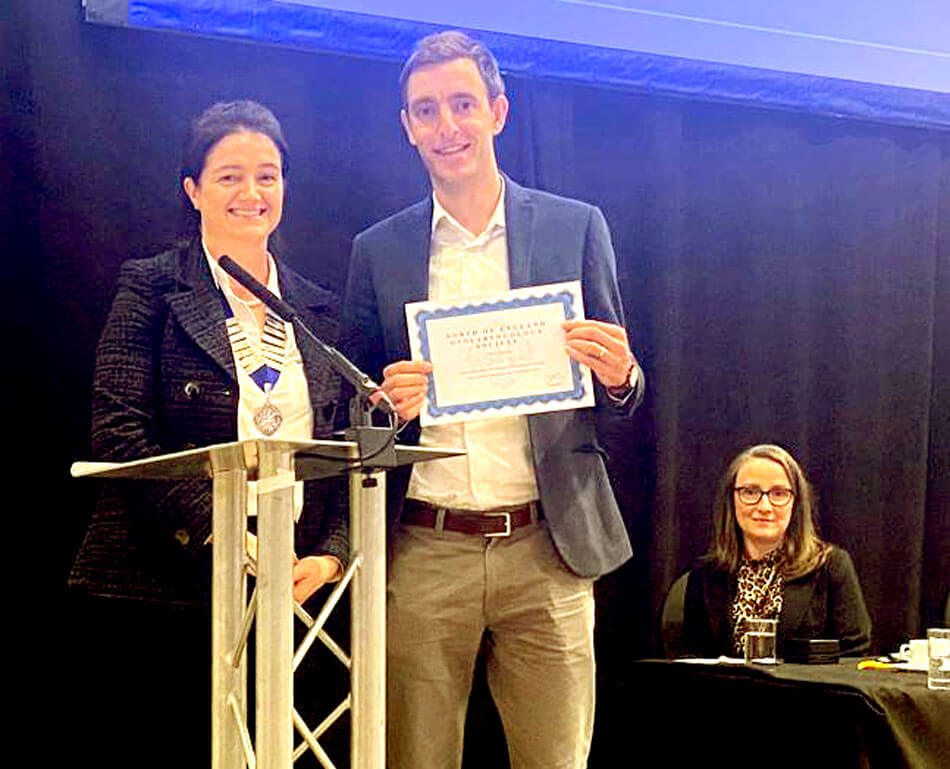 NoE President Emma Stapleton awards John Rocke with the prize for Best Presentation.
The North of England Otolaryngology Society's autumn meeting was hosted by Sarah O'Donnell and Tosief Zahoor from Leeds Teaching Hospitals at the impressive Royal Armouries Museum, Leeds, and comprised a varied academic programme.
Consultant Anaesthetist Dan Gilpin (below) opened with an overview of how technology may be used to improve surgical outcomes, including the use of wearable tech as part of the pre-operative assessment to predict peri- and post-operative journeys.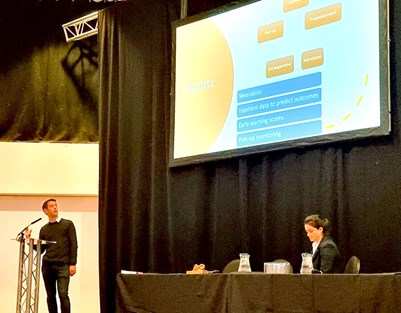 Talks followed from Paul Nix, who shared his pragmatic approach to dealing with HHT, and from George Seed prize winner Michael Mather who summarised his research into cell analysis and possible immune dysfunction in the upper airways of patients with OME. A series of trainee short papers then outlined some of the most innovative research being conducted within our region. Special mention goes to prize winner John Rocke (ST7 at Fairfield General Hospital) for his overview of the Post-OPerative Tonsillectomy Study (POP-T) looking at patients' post-operative journeys and interaction with healthcare services. This is the first ever completed trainee-led portfolio study in ENT – what an achievement for all involved!
The morning session concluded with a topical panel discussion around financial planning for ENT trainees. Many thanks to the representatives from Wesleyan (Lee Dobson), the BMA (Peter Jackson) and LTHT's Deputy Director of Medical Education Katy Clarke, who gave an invaluable insight into the potential financial implications of sick leave and fellowships, and updates on the current NHS pension issues.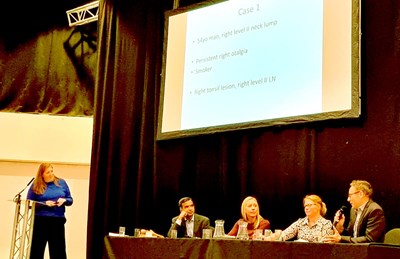 Lunch was followed by a variety of talks, ranging from an engaging (and rather heated!) panel discussion around updates in head and neck practice (pictured), to an overview of implantable hearing devices and the delicacies of inserting them. Of note, Ian Street and Su De from Alder Hey Hospital gave attendees an insight into their experience of establishing and running a complex breathlessness clinic in conjunction with their respiratory and physiotherapy colleagues, highlighting the importance of an MDT approach to diagnose and manage these complex cases.
The day closed with the awarding of prizes and honorary fellowships, followed by a drinks reception at the Armouries before a wonderful dinner at Mumtaz – somewhat of a Leeds institution.
Congratulations to all prize winners and many thanks to the organisers for providing such a relevant, interesting and varied programme of events in a wonderful setting. We look forward to the spring meeting where we will join with the Midlands Institute of Otolaryngology in Sheffield in May 2023.
Laura Simpson, ST4 in ENT, Hull University Teaching Hospitals, Hull, UK.