Event Details
Date: 21 March 2022
---
Location name: Crewe, UK
---
Location address: Crewe Hall Hotel & Spa, Weston Road, Crewe, Cheshire, CW1 6UZ, UK
---
Contact: Emma Stapleton, Honorary Secretary
---
---
---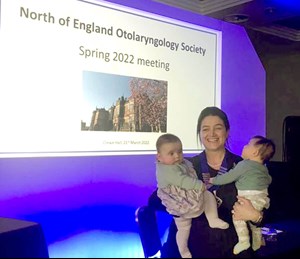 Established a year before the creation of the NHS, the North of England Otolaryngology Society has continually adapted to meet the needs of its members, as Katherine Conroy described in her opening lecture at the society's first face-to-face meeting in two years. On display were historical ENT instruments (many of which looked surprisingly familiar to a 21st-century ENT surgeon), on loan from the University of Manchester's Museum of Medicine and Health, along with archives from the history of the society.
It was a welcome opportunity to catch up with colleagues from across the region. The quality of the company was vastly improved by the presence of two pre-lingual attendees showing an interest in ENT from an early age (pictured above with Emma Stapleton).
Among the morning sessions was a tribute to Shaun Jackson, a beloved trainer in the Liverpool region who passed away in 2021. Max McCormick then delivered a lecture describing the brilliant and wide-ranging career of Philip Stell, most famously author of the Stell and Moran textbook, who was also a gifted linguist and historian.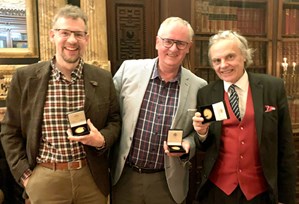 Honorary member Andrew Parker (pictured with fellow honorary members Professor Steve Ell and Professor Ray Clarke) then provided some light relief with an ENT-themed University Challenge competition, with many of the questions involving blanked-out headlines of tabloid medical articles.
A number of high-quality research papers were presented by trainees. The best oral presentation prize was won by Rohma Abrar for her project 'Blinded Comparison of Computed Tomography, Ultrasound and Needle Methods to Measure Pre- and Post-Operative Skin Flap Thickness for Cochlear Implantation'.
There was an interesting debate about whether trainees should attend operating lists in the private sector, and then surgeons of different grades spoke eloquently and honestly about 'Parenthood and surgery', with many personal anecdotes and contributions from the floor. The glacial progress towards uptake of shared parental leave, and the concepts of "work guilt" and "parental guilt" were sensitively explored.
In the afternoon, clinical expertise was shared on subjects including septal perforation and candidacy for cochlear implantation.
The meeting was skilfully chaired by the society's new president, Emma Stapleton, who will be familiar to readers of the International Newsround, and the local organisers were Sirhan Alvi and Apostolos Karkanevatos. Their hard work was greatly appreciated.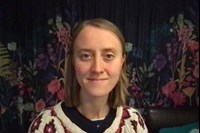 Future meeting details: 14 October 2022, Leeds Royal Armouries

Sara Timms, ST5 Manchester Foundation Trust