Event Details
Date: 21 August 2021
---
Time: 13:00
---
Location name: WEBINAR
---
Contact: Publicon
---
Tel: +372 5919 2019
---
---
---
PEVoC is an interdisciplinary conference for voice professionals to exchange knowledge about the human voice. The free tutorial webinar was about the newest scientific findings, medical developments and voicing techniques. Of course, COVID-19 was also of great importance – how to adapt with new conditions and how to support the rehabilitation.
There were altogether 11 very interesting presentations. Jan Švec reviewed some historical and recent contributions to understanding the myoelastic-aerodynamic (MEAD) theory about how the voice is produced. Professor Dirk Mürbe showed in their study COVID-19 infection risk based on particle emission rates. The results show significantly higher rates for singing as to breathing or speaking due to the high pressure level. Lower emission rates were found in children and adolescents compared to adults. Therefore, the results may contribute to improved situation-related risk management of singing. For example, the use of calculation models in enclosed rooms, which Mario Fleischer introduced.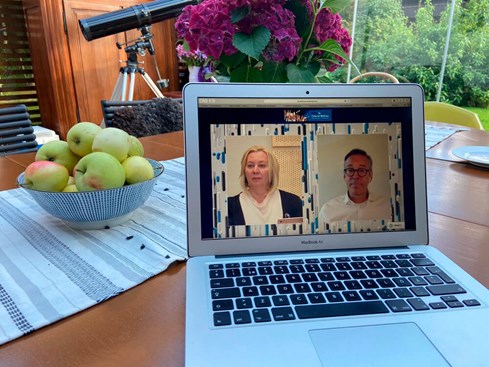 Home view - one of the Chairs of PEVoC14, Kristel Kalling, asking questions after Markus Hess presentation.
Ruth Epstein spoke about speech-language therapy during the coronavirus pandemic – everything in voice therapy is aerosol generating, even the humming! Hence, online therapy is here to stay. Markus Hess gave an interesting overview of male-to-female voice feminisation surgery, mostly done by Wendler's glottoplasty and its modifications. The surgery can change the voice range almost one octave higher, it is irreversible and can cause the loss of loudness. And last but not least, Virgilijus Uloza introduced the Voice Screen application – an accurate and robust tool for dysphonia severity detection. You can download Voice Screen free from iOS; the Android version will also be available in couple of months.
The half-day virtual event bridged the time gap between the conferences and kept the PEVoC family in touch. It was heart-warming to hear that PEVoC14 conference will take place live on 24-27 of August 2022 in Tallinn, Estonia.

Report by Maile Keskpaik, MD, Otorhinolaryngologist, East-Tallinn Central Hospital, Estonia.