Event Details
Date: 25 February 2021
---
Time: 19:00
---
Location name: WEBINAR
---
Contact: Haroon Saeed
---
Tel: +44 7971 487869
---
---
---
PREVIEW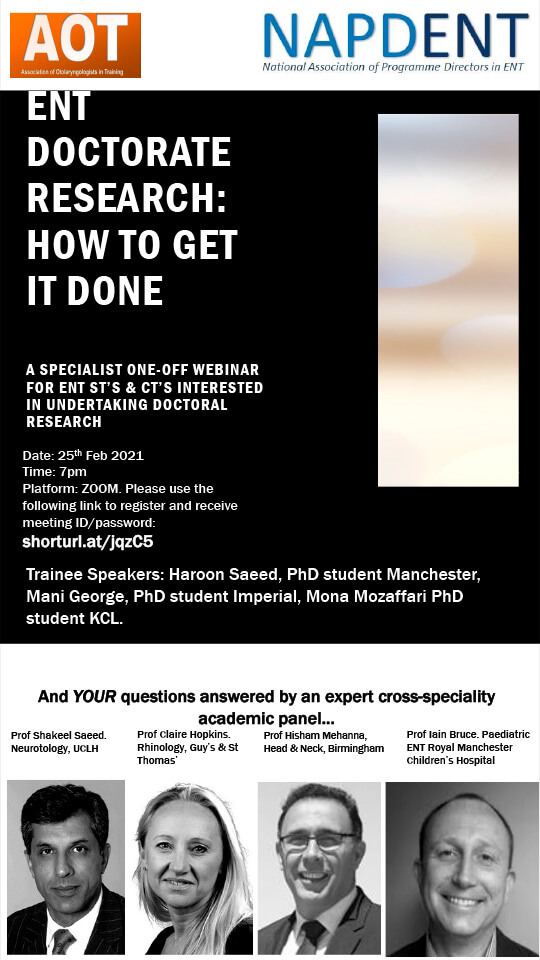 The NAPDENT & AOT invite you to attend this excellent webinar detailing how to start your journey into formal ENT academic research. This will take place on the 25th Feb 2021 at 1900.
Anybody interested in undertaking research, or those wanting to find out more about the process of doctoral research should attend.
Short talk topics will be given by active ENT PhD students from the research frontline, with a wealth of knowledge to impart to future researchers.
A wide range of topics will be covered including the process of applying for out of program research, how to be successful in grant applications, how to pick a research topic/supervisor, lab based doctorates, patient facing/clinical PhD's and LTFT research.
Our panel of expert consultant researchers (Prof Iain Bruce, Prof Shakeel Saeed, Prof Hisham Mehanna, Prof Claire Hopkins) across each subspecialty will answer your questions in a dedicated Q&A session.
Register in advance for this meeting:
https://us02web.zoom.us/meeting/register/tZArdO-srTIoG9Hm6OoeI91rpBjUitqi1zef
After registering, you will receive a confirmation email containing information about joining the meeting.