Event Details
Date: 27 September 2019
---
Location name: London, UK
---
Location address: Medtronic / Addenbrooke's Temporal bone lab
---
Report by Elinor Warner, ST6 in ENT
On 27 September Royal Society of Medicine and Medtronic temporal bone competition took place. The faculty included Kay Seymour Judith Heaton, and the outgoing Royal Society of Medicine Otology Trainee Representative, Aileen Lambert, who had come up from her new consultant post in Truro, Cornwall, by overnight sleeper train. They were joined by Neil Donnelly and Derek Gautrey, and the competition took place in the Medtronic/Addenbrooke's Temporal bone lab.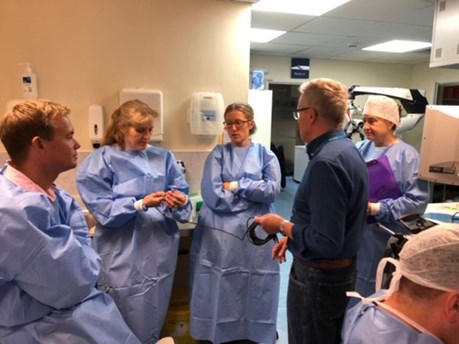 Judges of the competition.
Trainees were split into a morning and afternoon group, with nine in each. There was a spread of competitors from across the country, all eager to test out their skills.
The competition kicked off with a quick briefing, alerting candidates to the scoring system, where points are allocated for knowledge, basic drilling, advanced drilling and general technique. There was a range of abilities, and some early dura casualties knocked some hopefuls out of the running early on. Candidates held their nerve in the face of questions pelted by discerning judges. Three hours raced by, and there were some beautiful dissections by the end.
After a hotly contested morning, we were treated to a hot lunch by Derek and Medtronic. With full bellies, and resisting the temptation for an alcoholic beverage in Addenbrooke's on-site bar, the faculty said goodbye to the morning contestants, ready to welcome the afternoon candidates.
Another three hours swept by, with a brief hiatus for some more coffee, tea and a mid-afternoon snack, the faculty had finally decided on their winners.
First place was Laura Harrison, ST8 from Thames Valley, who wins a place on next year's Advanced Cambridge Otology course (worth £900) and £500 spending money. Second place went to Max Osborne from West Midlands who wins £200.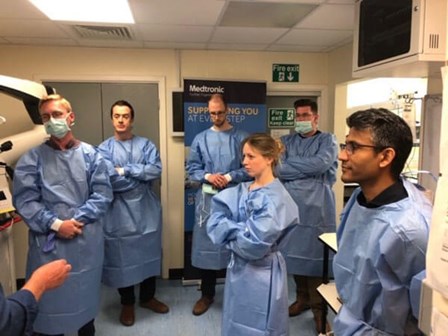 The competition winner, Laura Harrison, surrounded by fellow competitors.
It was a marvellous day, kindly sponsored by the Royal Society of Medicine and Medtronic, and was made possible by the excellent faculty who ran and judged the day. We look forward to another successful competition next year. Keep your eye out for the date which will be advertised in early 2020.