Event Details
Date:
26 September 2019
- 28 September 2019
---
Location name: Santorini, Greece
---
---
---
Click to view dynamic map
 Report by: Cem Meco, Professor, Ankara University, Turkey; Professor, Salzburg Paracelsus Medical School, Austria.
The second edition of Santo-Rhino, the Santorini Sinus, Skull Base and Rhinoplasty Workshop and Consensus Meeting, took place in Santorini, Greece from the 26 - 28 of September 2019. This year the organisers Professor Christos Georgalas and Professor Wouter van Furth brought together some of the world leaders in the areas of rhinology, endoscopic skull base surgery and rhinoplasty, as well as some extremely talented young surgeons – both the current and next generation of leaders in the field. The meeting addressed topics ranging from the evolution of chronic rhinosinusitis (CRS) management, to benign and malignant sinonasal tumors, to skull base surgery and rhinoplasty. The philosophy and main theme of this meeting is 'networked learning' - defined as the process of developing and maintaining connections with people and information and communicating in such a way to support one another's learning. That was reflected in the atmosphere and interactions that took place during the conference, and greatly facilitated the production of the consensus statement.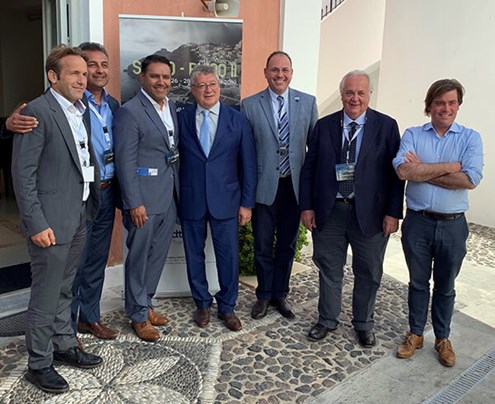 Faculty Members (L-R): Christos Georgalas, Anshul Sama, Raj Sindwani, Davide Locatelli, Cem Meco, Paolo Castelnuovo, Thibaut Van.
The combination of state of the art lectures with challenging round table discussion of complex cases and debates, the friendly and open atmosphere among faculty and participants, the engagement of all those attending, with input derived from their everyday clinical practice, as well as their continuing presence in the meeting area and, finally, the amazing setting of the conference venue, located at the top of the caldera of one of the most beautiful islands in the world, were all factors that contributed to the success of this year's meeting.
Last but not least, one of the most important aspects of this event was the Parallel Consensus Meeting for Idiopathic CSF Rhinorrhea and Intracranial Hypertension - the high level of the faculty made possible the production of the Delphi consensus statement - stay tuned in the next months!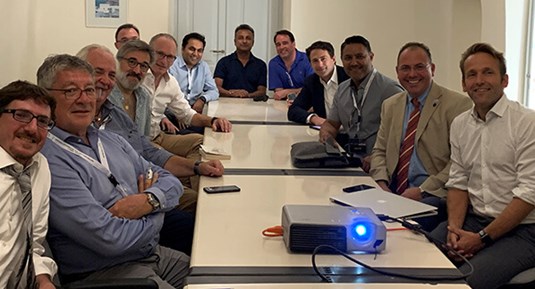 Consensus Meeting on Idiopathic CSF Leak (L-R): Iacopo Dallan, Davide Locatelli, Paolo Castelnuovo, Phillipe Herman, Wouter van Furth, Dimitris Kombogiorgas, Shahz Ahmed, Anshul Sama, James Palmer, Thibaut van Zele, Bradford Woodworth, Raj Sindwani, Cem Meco, Christos Georgalas.