Event Details
Date:
17 May 2019
- 19 May 2019
---
Location name: Florida, USA
---
Location address: University of Florida, Gainesville, FL 32611, USA
---
Tel: +1 352 294 5360
---
---
---
Click to view dynamic map
Report by: Katherine Haugh
People affected by smell or taste disorders from around the world joined clinicians, scientists and patient advocates at SmellTaste2019 in Gainesville, Florida, in May 2019. Hosted by the University of Florida Centre for Smell and Taste (UFCST) and the UK-based charity Fifth Sense, the conference provided people with smell and taste disorders an opportunity to share experiences, gain support, and learn about future therapies for smell and taste loss.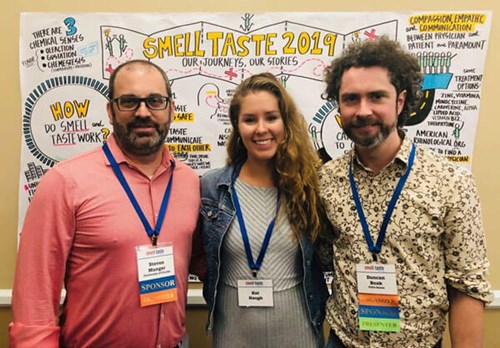 UFCST Director Steven Munger, Katherine Haugh, conference speaker and graphic artist, and Duncan Boak, founder of Fifth Sense at SmellTaste2019.
As someone affected by smell loss - I attended the conference to share my story, visually capture our conversations, and learn more about the latest research on treatments for my condition. 
The weekend began with an informal social on Friday evening. Thanks to sponsors Glenfiddich (particularly brand ambassador, Tracie Franklin), The AC Hotel, and with help from Breakthru Beverage's Eric Timme, the social featured a competition where local bartenders created cocktails and mocktails specifically designed to be enjoyable for people with smell or taste disorders. The conference attendees voted for their favourite drink and the bartender with the most appealing drink won a prize. Read more about one participant's reflections about the cocktail competition. 
The winning drink of the cocktail competition, created by James Delacruz.
The educational sessions started on Saturday morning. UFCST Director Steven Munger first introduced participants to the biology of smell, taste, and flavour. Afterwards, I shared my personal story with smell loss. I talked about how I lost my sense of smell three years ago from a bicycle accident and how my perspective on my loss has shifted dramatically as a result of smell training sessions with Chris Kelly of Absent. Next, otolaryngologist Dr Jeb Justice, Co-Director of the UF health smell disorders programme, explained how to best communicate with physicians about smell and taste conditions. He also shared his recommendations for different therapeutic options including steroid rinses and smell training.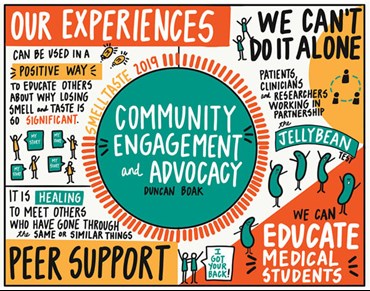 A visual I created below during one of the conference sessions on community engagement and advocacy.
After lunch, Duncan Boak spoke about the importance of community engagement, patient support, education and advocacy. He also shared some tips for engaging other senses to enjoy food and drink and introduced the 'tasting guide' for that evening's dinner. 
On Sunday morning Dr Jeffrey Martens, Chair of the UF Department of Pharmacology and Therapeutics, spoke about the current state of research focused on treating chemosensory disorders. The results from his lab, demonstrating that mice with congenital anosmia treated via gene therapy could acquire meaningful olfactory function, were very inspiring for conference attendees.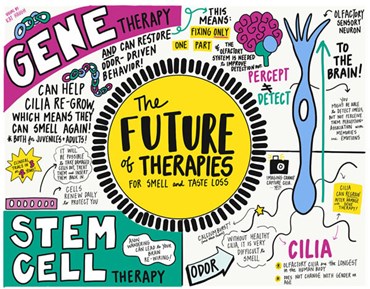 A visual I created during Dr Jeffrey Martens session about the future of therapies for smell and taste disorders.
The conference ended on an inspiring note with a discussion about next steps and what conference attendees can do to advocate for further research, nurture the smell and taste disorder community, and raise awareness about smell and taste conditions.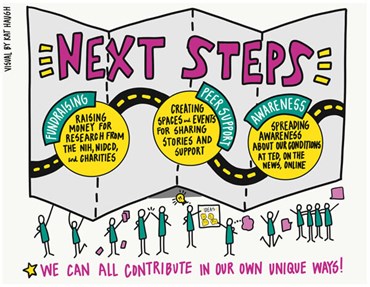 A visual I created during the closing session of the conference about next steps.
Preview

The University of Florida Center for Smell and Taste (UFCST) and Fifth Sense, the UK-based charity for people affected by smell and taste disorders, are excited to announce SmellTaste2019. This biannual event will be held on 17-19 May 2019 on the University of Florida campus in Gainesville, Florida.
The goal of SmellTaste2019 is to empower those experiencing a smell or taste impairment through education, support and engagement. This patient-focused conference provides an opportunity for anyone affected by a smell or taste disorder to learn more about smell and taste disorders, to engage with clinicians and scientists pursuing treatments for these disorders, and to interact with others who are experiencing smell or taste impairments. SmellTaste2019 follows the successful SmellTaste2017, which brought people to the University of Florida from around the world.
Registration for SmellTaste2019 has now opened. Registration includes the full meeting programme, meeting materials, a catered luncheon on Saturday and a banquet on Saturday evening. Guest tickets for the banquet can be purchased separately.