Event Details
Date:
7 May 2021
- 8 May 2021
---
Time: 05:00
---
Location name: VIRTUAL
---
---
---
The first Friday and second Saturday of May 2021 were the dates set aside for LION-ESS 2021. The event was hosted by Global Rhinology Network (GRN) in collaboration with Live International Otolaryngology Network (LION) foundation, both registered non-profit organisations with a mission to foster surgical training in ENT and especially endoscopic sinus surgery for this event.
LION-ESS 2021 was the fifth global webinar of its kind, and free of charge to delegates. Over its two days, the event broadcasted a wealth of live surgery performed by eminent surgeons from around the globe. Previously, LION events have been broadcast from the Global Telemedicine Studio in Utrecht, Netherlands: however pandemic-related travel restrictions meant that the principal host, Mr Ashok Rokade, hosted remotely from Hampshire, UK, whilst Mr Wilko Grolman coordinated the event from the Netherlands. Allowing this additional degree of separation, the event was broadcast with near seamless efficiency over the mediums of Zoom, Facebook Live and YouTube Live.
Day one started at the very early time of 5am BST with Prof Richard Harvey from Sydney, Australia, performing FESS with a demonstration of the Carolyn's window technique for frontal sinus surgery. This was promptly followed by Prof Christos Georgalas from Athens, Greece, and Prof Paolo Castelnuovo from Varese, Italy, working simultaneously in their institutions to perform a FESS for dental sinusitis and an excision of juvenile nasopharyngeal angiofibroma, respectively. The broadcast then moved further west to Barcelona, Spain, where Professors Manuel Bernal-Sprekelsen and Isam Alobid performed FESS surgery for inflammatory disease and for a cribriform plate CSF leak/meningioma. The LION-ESS broadcast then moved across the Atlantic to the United States, where Prof James Palmer from Philadelphia performed a modified endoscopic Lothrop's procedure and thereafter Prof Zara Patel from California performed a FESS for inflammatory disease. Watching these well-known surgeons performing surgery of this kind over the course of the day would have certainly left the audience inspired in performing their own FESS procedures and maybe adopting some techniques learned over the day – but certainly looking forward to day two!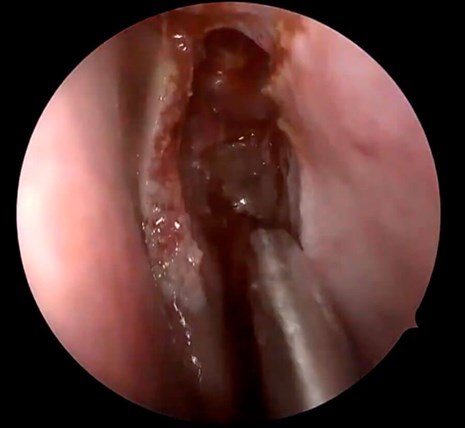 Prof Richard Harvey (Sydney, Australia) demonstrating the Carolyn's window technique.
The second day of LION-ESS 2021 started in London, UK, with Prof Hesham Saleh kindly inviting the audience to his full operating list. Procedures performed included drainage of fronto-ethmoidal mucocele; primary ciliary dyskinesia FESS; CSF leak and revision FESS. Finally, the broadcast moved back East to Jaipur, India, where the audience linked up with Prof Satish Jain. It would have been evening there already, but nonetheless he was ready to deliver some exceptional examples of pathology usually not seen in the developed world. These were three cases of sinonasal mucormycosis – a condition that is sadly on the increase in the Indian population due to the effects of the pandemic. In one example he demonstrated a transnasal dissection and debridement of the orbit in a patient with disease infiltrating into the compartment causing visual loss.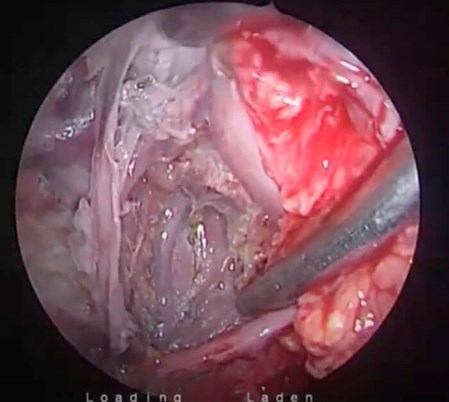 Prof Satish Jain (Jaipur, India) debriding infiltrating mucormycosis from the left orbit (note the optic nerve under the suction and the globe beyond).
LION-ESS 2021 saw over 8000 attendees logging in over the two days. Feedback has been hugely complimentary, with some centres using the event as a training day for trainees. Thanks should be given to Mr Ashok Rokade for organising such a great and immersive event, to Prof Wilko Grolman for providing technical support, and to Ms Louise Melia and Mrs Claire Langton-Hewer for moderating the event. Further thanks is given to all the surgeons who kindly allowed us into their operating theatres to see them work and simultaneously handled questions from the audience.
The two-day event was one not to be missed! But if you did, the broadcast is already available on YouTube (Global Telemedicine Studios channel) and via the GRN website. For the best educational experience, the event is being made available on Global Rhinology Network YouTube channel in modular case-based format.
For more information, please visit www.globalrhinology.org; @global.rhinology on Instagram and Global Rhinology Network on Facebook.
Report by

Ankur Batra, MRCS, Hampshire, UK.
Rohit Gohil, FRCS(ORL-HNS) FRCSEd, Hampshire, UK.