Event Details
Date:
20 June 2019
- 21 June 2019
---
Location name: Saint Petersburg, Russia
---
Click to view dynamic map
Report By: Dr Konstantin Dobretsov, FMBA, Krasnoyarsk, Russia, Prof Hesham Negm Cairo University, Egypt.
The 6th scientific-practical conference of otorhinolaryngologists and audiologists of FMBA Russia with international participation was opened by Professor J Nakatis, President of the conference and the President of FMBA of Russia; Professor N Dayhes, Director of the Otolaryngology Scientific and Clinical Centre FMBA of Russia; Professor G Tavartkiladze, Director of the Russian Clinical Centre for Audiology and Hearing; and Professor S Karpischenko Director of the St Petersburg Research Institute of Hearing, Throat, Nose and Speech.
More than 1000 otorhinolaryngologists from different regions of Russia, the commonwealth of independent states and countries throughout the world, were registered at the conference. In total, 140 presentations in 20 sessions on various aspects of otorhinolaryngology were organised.

Delegates and faculty at the 6th conference otolaryngologists and audiologists of FMBA of Russia with international participation.
Among the invited guests were the Secretary General of IFOS, Professor Milan Profant (Slovakia) who provided a radiological classification for otosclerosis. Professor R Puxeddu (Italy) made an interesting presentation on transoral supraglottic laryngectomy; Professor K Niemczyk (Poland) presented the results of modern methods of treatment of diseases of the skull base; Professor H Negm (Egypt), talked about the evaluation of patients with obstructive sleep apnoea; Professor D Passali (Italy), treatment of nasal septum perforations; and Professor L Bellucci (Italy), diagnosis and treatment of allergic rhinitis. In addition to international colleagues, there were also those from the past-soviet countries; Professors A Shukuryan (Armenia), R Tulebayev (Kazakhstan), and Z Kolyadich (Belarus).
Much attention was attracted by the lectures of the Russian speakers Dr Dobretsov, on the use of telemedicine in otorhinolaryngology, and A Lopatin about the microbiome of the paranasal sinuses caused much attention. In the section on rhinology, Dr V Averbukh (Russia) presented a new way of using local flaps in endonasal surgery. In the otology section, Professor H Diab made a report on the reconstruction after the removal of cholesteatoma. In the section on pharyngeal and laryngeal diseases, Dr I Nazhmudinov talked on the diagnosis and treatment of laryngeal precancerous lesions. Dr E Osipenko's lecture on management of patients with hoarseness in the phoniatric section also attracted a lot of attention.
The participants enjoyed the white nights of St Petersburg in the Neva cruise organised by the congress.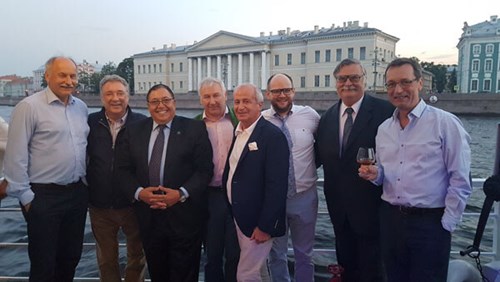 Professors Profant, Nakatis, Negm, Kapitanov, Tavartkiladze, Dobretsov, Passali and Lopatin on the Neva cruise.