Event Details
Date:
15 October 2019
- 18 October 2019
---
Location name: Dunedin, New Zealand
---
Location address: The Dunedin Centre, 1 Harrop St, Dunedin, 9016, New Zealand
---
Contact: Donna Clapham
---
---
---
Click to view dynamic map
Report by: Dr Inbal Meshulam- Weiss, ORL MOSS, Counties Manukau Health and Dr Nadina Thwaites, ORL MOSS in Counties Manukau Health, Auckland, New Zealand.
It's this time of year again when most of the ORL surgeons in New Zealand, along with some esteemed overseas guests, flock to the New Zealand Society of Otolaryngology and Head and Neck Surgery (NZSOHNS) annual meeting, held in Dunedin conference centre. The theme of the meeting was 'Choose Wisely'. It was a delightful gathering, with fascinating talks and a rich social programme. The meeting ran alongside the New Zealand Society of Balance, Dizziness and vertigo (NZSBDV) programme.
The scientific programme included plenary sessions and two-to-three concurrent sessions every day, making it hard to choose between concurrent presentations.
The otology sessions were well-attended and attracted plenty of group discussions. There was comprehensive review of tinnitus and vertigo, from psychosocial aspects described by Dr Maria Kleinstauber, to surgical management options by Professor Robert Briggs. Dr Louisa Murdin, an audio-vestibular physician reminded us about the diagnostic challenges in vestibular migraine and other causes of chronic dizziness. Vestibular schwannoma was a popular topic and all aspects of this were covered, from imaging protocols to surgical management.
The rhinology programme featured sessions by overseas guest speaker, Associate Professor Alkis Psaltis, focusing on the microbiome and its role in chronic rhinosinusitis. The importance of microbiome in management was further accentuated by talks about antibiotic treatment failure by Dr Andrew Wood, and how to achieve better penetration of topical therapy by Professor Richard Douglas. Even ultrasound treatment was considered in Mr Jim Bartley's intriguing talk.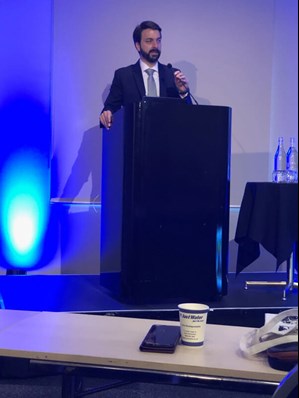 Associate Professor Alkis Psaltis (Invited speaker for Rhinology).
Personal wellbeing was addressed at the mini seminar, conducted by Dr Nicola brown, trying to get health professionals to improve time management in order to achieve better life/work balance. The James Hardie Neil lecture, 'Common mistakes in surgical research and how they affect clinical decisions' by Professor Hisham Mehanna, was a masterpiece. This was an eye-opening talk on the importance that is sometimes assigned to less than perfect research evidence, making people change their practice without sufficient evidence.
This was followed by discussion on Maori health in ORL, Associate Professor Suzanne Pitama, challenged us on our cultural competence by engaging the audience in a pop quiz on social determinants of inequality in healthcare. She made us realise our limitations in healthcare and it was agreed among the speakers in this session that we need to acknowledge our own bias as a first step. A panel discussion was then held with Dr Rachelle Love - the first female Maori surgeon -, Dr Rebecca Garland, Associate Professor Phil Bird, and Mr Ru Douglas- the first Maori ORL surgeon in NZ.
Head and neck sessions included management of HPV related oropharyngeal squamous cell carcinoma (SCC) by Prof Hisham Mehanna, in addition to many scientific talks by other speakers.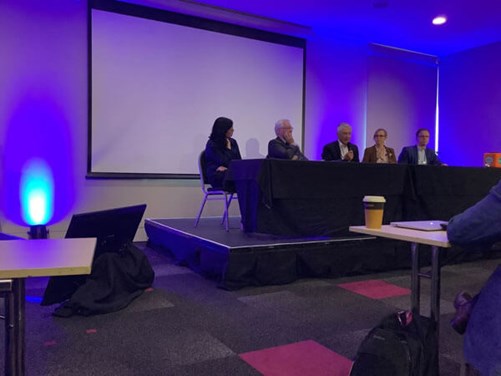 Panel discussion on Maori health, (L-R) Associate Prof Suzanne Pitama, Professor Randal Morton, Mr Ru Douglas, Dr Rebecca Garland, Associate Prof Phil Bird.
The NZSOHNS golf tournament was held in the Otago golf club, and a half-day cycling tour was enjoyed by some fit members. The social highlight of the week was the conference dinner at Larnach Castle. The attendees were given a tour of the castle before settling in for the evening refreshments and entertainment in a traditional Scottish manner which was the theme of the dinner. Overseas guests participated in the traditional Scottish night out. Patrick Dawes handed on the mantle of society Presidency to Zahoor Ahmad for the next two years.
Overall a successful scientific and social programme in the lovely city of Dunedin.