Event Details
Date:
13 October 2020
- 16 October 2020
---
Location name: Auckland, New Zealand
---
Location address: Cordis, Auckland, 83 Symonds St, Grafton, Auckland 1010, New Zealand
---
---
---
Click to view dynamic map
Report

 By Sandro Leite, ORL Fellow, Counties Manukau Health, Auckland, NZ.
Social distancing has been advised worldwide due to COVID-19, but New Zealand was considered safe enough to hold a face-to-face meeting. After months of preparations, the safety for the meeting was confirmed just 10 days from the planned start date, on 13 October 2020.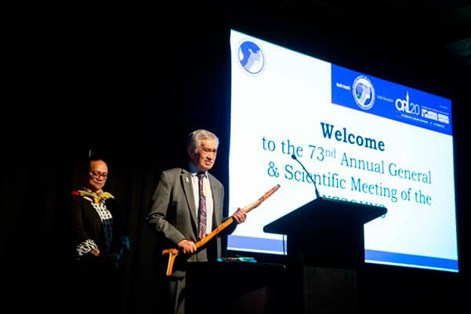 Maori blessings - 'Mihi' - in opening ceremony of the conference.'Look back, look forward' was the theme of the meeting that attracted delegates from all over New Zealand. Local speakers were involved and 'virtual' lectures delivered by some well-known overseas guests. It was a fantastic encounter with a high-standard academic programme and a rich social programme, allowing participants to meet and share their experiences. The scientific programme included plenary sessions and two-to-three concurrent sessions every day, making it difficult to choose between them.
The pre-conference sessions were well attended and led to many group discussions. Four different sessions covered topics such as head and neck and thyroid surgery, rhinoplasty, Eustachian tube balloon dilation and paediatric airway emergencies. Featured overseas guests, Dr Sam P Most (USA), Prof Vincent Poorten (Belgium), Prof Nirmal Patel (Australia), Stephen Floriani (Australia) and Frank Lin (USA) were involved in preconference instructional sessions.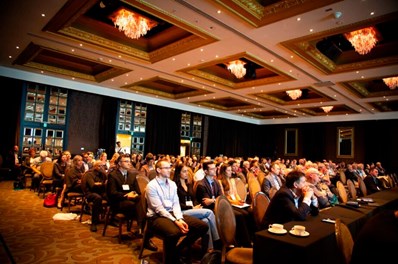 The James Hardie Neil Lecture had Prof Bruce Haughey (University of South Florida, USA) as keynote speaker, talking on 'HPV-mediated Oropharyngeal Cancer: A History of Challenges and Changes'. This was followed by the interesting and well-commented presentation, 'Hearing, Dementia and Brain Aging - From Epidemiological Insights to Clinical Trials' by Prof Frank Lin.
Educational sessions by Dr Michael Kuo and Prof B Nirmal Kumar and his team, and rhinology sessions by PJ Wormald and Sean Carrie, as well as otology and sleep surgery sessions from experts all over the world by virtual presentations, were well-received and appreciated by delegates. There were also great sessions for audiologists, speech therapists and ORL nurses.
The Indigenous Health session, held by Prof Kelvin Kong (Australia) and Dr Maxine Ronald (New Zealand), alerted the public to the disparities found in the Maori population's access to public health.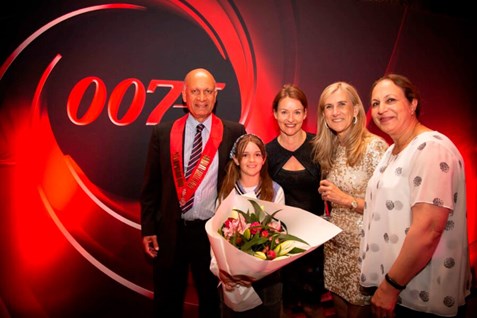 NZSOHNS President, Zahoor Ahmad with 11-year-old Jessie who sang during the Gala Dinner.
An interesting and NZSOHNS Historical Lecture was presented by Guest Speaker, Mr Ronald J Goodey (Life-Member of NZSOHNS), with the theme, 'My Career in ORL: Reusable to Disposable to Recyclable'.
Social and extracurricular activities were also well attended. Thanks to the effort and perseverance of the entire organising committee, we had a successful scientific and social programme in New Zealand this year. In the words of the NZSOHNS President, Mr Zahoor Ahmad: "Our persistence paid off! Despite the chaos of our times we went ahead and enjoyed an excellent meeting."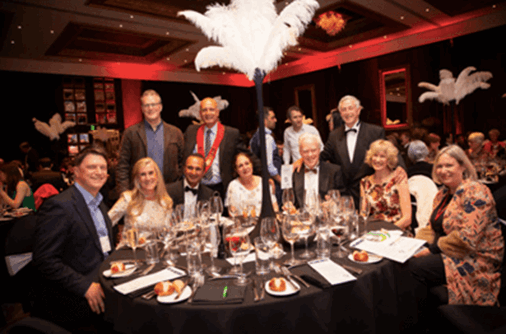 The Gala Dinner theme was James Bond, 007.