Event Details
Date:
9 March 2022
- 12 March 2022
---
Time: 17:01
---
Location name: Royal Beach Hotel
---
Location address: Royal Beach Hotel, Ha-Yam St 1, Eilat, Israel
---
Click to view dynamic map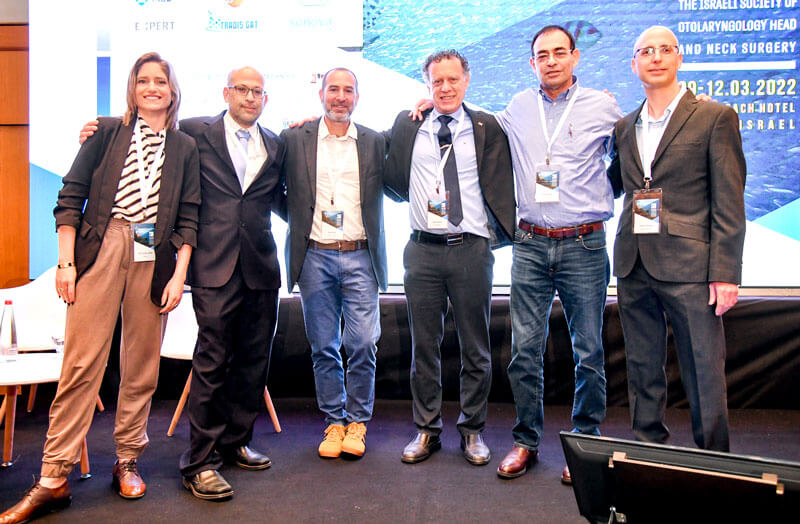 Board of the Israeli Society of Otolaryngology – Head and Neck Surgery. From left to right: Dr Tali Landau-Zemer (treasurer), Dr Eran Alon (secretary and scientific secretary), Prof Daniel Kaplan (president), Dr Erez Bendet and Dr Yaniv Hamzani
More than 300 otolaryngologists, both residents and consultants, attended the 2022 annual meeting of the Israeli Society of Otolaryngology Head and Neck Surgery. The speakers represented a remarkably broad spectrum of expertise, including otology and neurotology, rhinology, head and neck, laryngology, paediatric otolaryngology, as well as facial plastics and reconstruction.
The meeting included instructional courses, keynote lectures, 17 panel sessions, 11 free paper sessions and posters and a residents' session. Over 35 national and international pharma and instrument companies participated in the exhibition and the evenings included a rich social programme.
Prof Daniel Kaplan, President of the Israeli Society of Otolaryngology, Head and Neck Surgery, greeted the participants and expressed his satisfaction that the conference took place, this time live, and not on webinar. Prof Galia Rahav, Head of the Infectious Disease Unit and Laboratories at the Sheba Medical Center, delivered a fascinating talk on lessons learned from the Corona pandemic.
Prof Lawrence R Lustig (USA) focused his talks on cochlear gene therapy and, as the editor of Otology & Neurotology, his tips for successful publication. Prof Natalie Loundon (France) discussed gene therapy and hearing loss. Prof Raj K Bhalla (UK) reviewed his approach to the frontal sinus and discussed training the next generation. Prof Neal D Futran (USA) discussed advances in midface reconstruction. Prof David M Kaylie (USA) provided an overview on fellowships in the United States (on webinar).
The central part of the scientific programme was dedicated to the presentation of five outstanding research projects by residents in basic and clinical research, with prizes awarded for the best talks. This was followed by a plenary roundtable devoted to the pending shortening of the working hours of residents. Two talks were given in memory of the late Prof Jacob Sadeh and a prize was awarded in his name to outstanding research.
A new feature of the meeting were several talks and a panel on innovations in otolaryngology, which included experts in the field and examples given by some of our physicians. As in the past, a rich social programme included evening performances enjoyed by the participants and their families.
The conference was both educational and social and was well appreciated, as seen by the summary of a survey of the participants.
We all hope to meet again in our next meeting in March 2023, Eilat.
Dr Shay Schneider, Department of Otolaryngology – Head and Neck Surgery, Soroka University Medical Center and the Faculty of Health Sciences, Ben-Gurion University of the Negev, Beer Sheva, Israel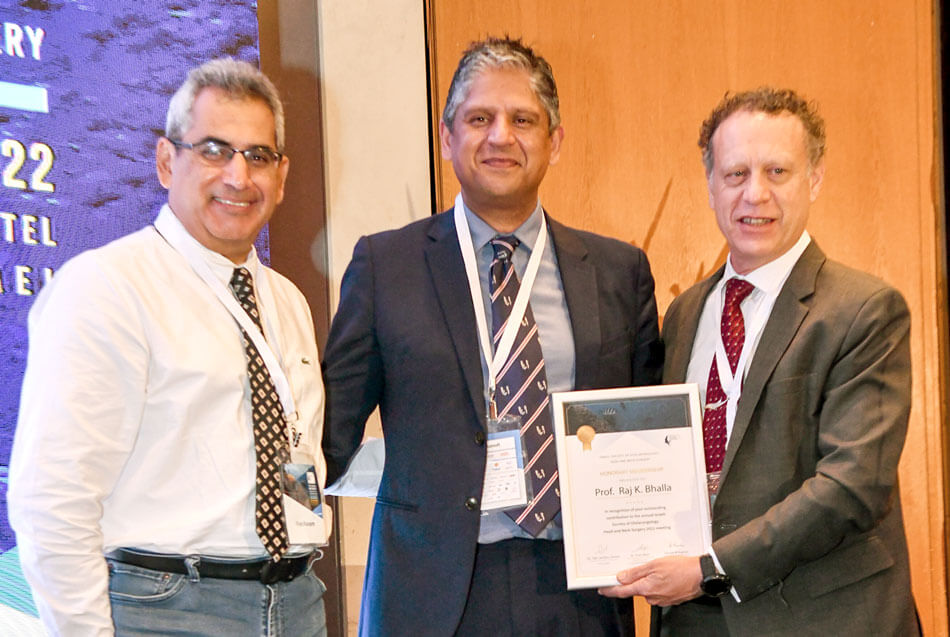 Prof R Bhalla after his presentation, with Dr Firas Kassem, President of the Israeli Rhinology Society (left) and Prof Daniel M Kaplan, President of the Israeli Society of Otolaryngology – Head and Neck Surgery