Event Details
Date: 8 February 2019
---
Location name: Dublin, Ireland
---
Location address: 123 St Stephen's Green, Dublin, D02 YN77, Ireland
---
---
---
Click to view dynamic map
Collaboration- How can we help?
Report by: Nash Patil- ENT Consultant/Sligo, Michael Fitzsimmons- CST Trainee/Dublin.   
Collaboration was the theme of the Otolaryngology, Head and Neck Surgery session at this year's Royal College of Surgeons in Ireland (RCSI) Charter Day held on 8th February to commemorate the 235th anniversary of the College's Royal Charter.
True to the theme, the panel of speakers comprised of experts from within the specialty as well as from the disciplines of neurosurgery, general surgery and radiation oncology. Their presentations covered three topics.
The discussion on contemporary management of complications of sinusitis and otological infections highlighted the importance of early dialogue between the ENT and neurosurgical services.
Professor Terry Jones honoured us with his 'View from Liverpool' on the subject of HPV and oropharyngeal cancer before Dr Sinead Brennan, Radiation Oncologist, provided an update on chemo and radiotherapy adjuvant treatments.
After refreshments, Mr. Enda McDermott, Breast/Endocrine Surgeon, gave an overview on parathyroid surgery and the need for multidisciplinary teamwork to achieve successful outcomes.  Such teamwork is especially important in cases of recurrent laryngeal nerve injury, for which Mr. Mark Rafferty, ENT Surgeon, advised the potential benefits of nifedipine or hyaluronic acid treatment.
Prof Jones returned to the podium to deliver the keynote lecture entitled 'Team Science'.  Through the lens of oropharyngeal cancer, he emphasised the importance of integrating expertise from different fields with a diversity of skills and knowledge to further elucidate underlying causes of disease and to develop new and improved treatments. Highlighting some ongoing clinical trials such as the UK based Post-operative Adjuvant Treatment for HPV-positive Tumours (PATHOS), his lecture provided a stimulus for multidisciplinary discussion amongst the audience. 
Co-organiser, Professor John Fenton, reiterated the theme of cross-speciality collaboration to achieve the best individualised treatments and optimum patient outcomes, as the overall take-home message from the event.
This was a particularly important Charter Day event as far as the ORL-HNS specialty was concerned, as its national model of care had been launched just the day before!
Many thanks to Professor Laura Viani and Prof Fenton for developing the programme for this August meeting, to the three chairpersons, and to the nine expert speakers for their informative presentations … a team effort indeed!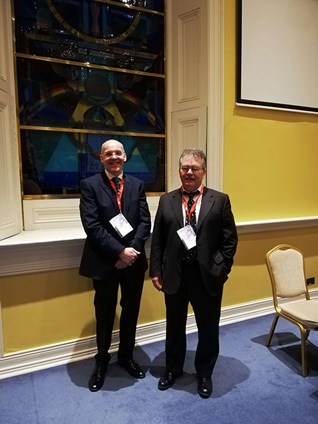 Professor Terry Jones (left) and Professor John Fenton (right).