Event Details
Date: 8 February 2022
---
Time: 16:00
---
Location name: VIRTUAL
---
Contact: Jenna Heath, Evelina Education Team, Evelina London Children's Hospital
---
Tel: 07785 994659 / +44 (0)20 718 80853
---
---
---
PREVIEW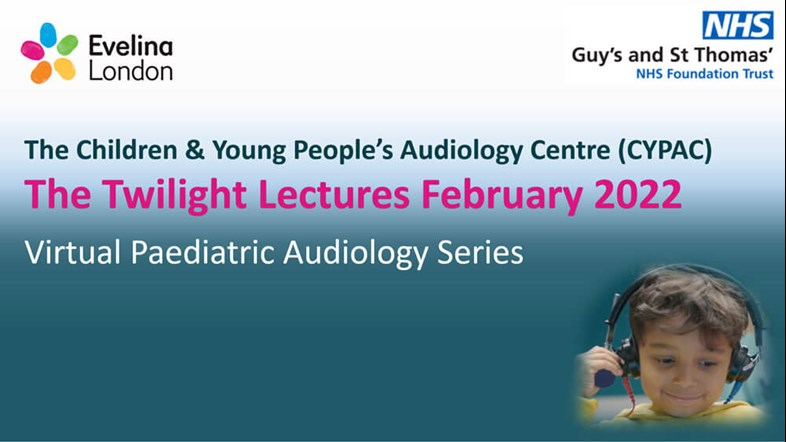 The Twilight Lectures 2022: Virtual Paediatric Audiology Lectures
The Children's and Young People's Audiology Centre (CYPAC) are excited to bring back The Twilight Lectures, an exciting series of live virtual presentations, covering emerging developments in the field of Paediatric Audiology. The sessions will include guest speakers, case studies and Q&A panel discussions, aimed at Audiologists, audiology students and anyone with an interest in Paediatric Audiology.
Lecture 1: Paediatric Hearing Aids: Advanced features (8th February 2022, 4-6.15pm GMT)
The theory, clinical application and verification of advanced hearing aid features in paediatric patients, with clinical case studies.
Lecture 2: ASSR testing in Paediatric Audiology (15th February 2022, 4-6.15pm GMT)
The theory behind the newly released BSA ASSR protocol and its clinical applications of ASSR testing. CYPAC's experience of implementing ASSRs within the electrophysiology test battery for infants referred from the newborn screening programme.
Lecture 3: The Team Around the Paediatric Audiology Patient (22nd February 2022, 4-6.15pm GMT)
The role of the multidisciplinary team for Paediatric Audiology patients diagnosed with a PCHI. The importance of aetiological investigations will be explored from both a Paediatrician's perspective and a parent's own experiences. AVUK will discuss the role of Auditory Verbal Therapy in facilitating spoken communication in paediatric hearing aid users.
To book your place (with a discounted rate when booking all three sessions):
https://the-paediatric-audiology-twilight-lectures.eventbrite.co.uk
Full agenda to follow. We hope you will join us for this exciting series of lectures!