Event Details
Date:
23 January 2020
- 25 January 2020
---
Location name: San Diego, USA
---
Location address: Hotel del Coronado, Curio Collection by Hilton, 1500 Orange Ave, Coronado, CA 92118, United States
---
Contact: Marsha Holbert
---
---
---
Click to view dynamic map
Report by: Manuela Fina, MD Assistant Professor, Department of Otolaryngology Head & Neck Surgery, University of Minnesota, Minneapolis, MN
Flying from the arctic winter of Minnesota I was excited to arrive to sunny San Diego to warm up, soak in the sunlight for a healthy dose of Vitamin D and attend the Annual Triological Society Combined Section Meeting in January. The meeting venue was held at the beautiful Hotel del Coronado, an historical landmark hotel with Victorian architecture, beautiful beachfront location, and a rich history for being the set of many famous films, such as 'Someone Likes It Hot' filmed at the Hotel del Coronado in 1958.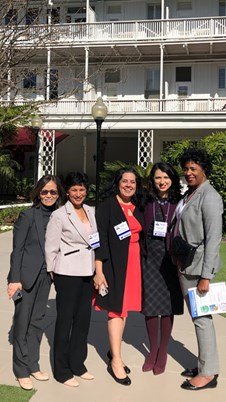 (L-R) Dr Sukgi Choi, Dr Cherie Anne Nathan, Dr Sujana Chandrasekhar, Dr Manuela Fina, Dr Valerie Flanary.
The Triological Society Meeting also has a rich history. It was founded in 1895 in New York, New York and originally denominated 'The American Laryngological, Rhinological and Otological Society'. Today the Triological Society is a prestigious society that promotes research and education through travel and research grants for residents and medical students and disseminates the latest scientific information through scientific publications including The Laryngoscope, Laryngoscope Investigative Otolaryngology and the news magazine ENT Today.
The meeting included many stimulating interesting sessions: a 'Trio Best Practice Session' with audio response poll from the attendees; a 'How I do it' video session; a residents bowl competition; many stimulating panel discussions; a visual abstract competition and a poster session. I was honoured to be invited to present a video on 'Endoscopic Management of Cholesteatoma with Infracochlear Extension' in the 'How I do it' video session.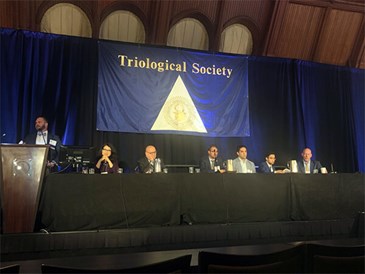 Panel of presenters at the 'How I do it:  Video Session'.
Some of the highlights of the meeting included a presentation on the relationship between hearing loss and dementia, a great panel discussion on diagnosis and management of pulsatile tinnitus, and a thesis awarded of honourable mention on engineered oncolytic virus for the treatment of cholesteatoma.
This was an outstanding meeting and we all enjoyed the scientific programme as well as the social aspect of catching up with old friends and meeting new colleagues in such a beautiful venue.